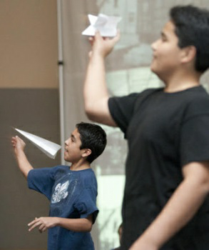 Glendale, AZ (PRWEB) March 08, 2013
On March 9, 2013, the Arizona Middle School Science Bowl will be held at Arizona State University West campus. Last year, over 1,000 people attended this math and science competition.
"This fast-paced academic competition will showcase students' verbal ability to solve complex technical problems," said Stephen Booze, CIO of Appointment-Plus, the leading online appointment scheduling software for schools and math tutors. "I'm really excited to see how the students demonstrate their science and engineering skills through paper airplane and model car races."
The first place team earns the opportunity to travel to Washington, D.C. to compete in the 2013 National Science Bowl for Middle School. In 2012, Basis Charter School Scottsdale represented Arizona.
To encourage students to excel in mathematics, Mr. Booze will be a judge with other Arizona professionals in the fields of Science, Technology and Engineering.
"Over the past 22 years, more than 225,000 students have participated in one of this nation's largest science competitions," said Booze. "As a technology executive, I look forward to knowing that these bright students will one day pursue careers that will help keep America moving forward."
##
Since 2001, Appointment-Plus has helped businesses streamline online appointment scheduling, reduce no-shows and access instant one-click reporting. Appointment-Plus' Scheduling Cloud™ API enables organizations to build custom applications and integrate with Microsoft, Google, QuickBooks and other popular business tools.
Learn more about Appointment-Plus online appointment scheduling software.