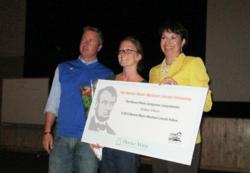 Longwood, FL (PRWEB) March 12, 2013
Teachers Insurance Specialists of Longwood, Florida congratulates Miss Sydney Olson, 9th Grade Social Studies Teacher at West Orange High School in Orlando Florida, on her recent achievement of being selected for the Horace Mann-Abraham Lincoln Fellowship Program.
"As a Horace Mann Insurance Agency, we are proud to announce that one of our educators has been selected to participate in the 2013 Fellowship Program," says Simone Baldwin owner/operator of Teachers Insurance Specialists.
Horace Mann holds a nationwide search for exemplary educators, teachers and administrators, and selects a group of fifty individuals to travel to Abraham Lincoln's hometown of Springfield, IL. The Fellowship Program features two five-day programs, in June or July, and includes round-trip transportation, lodging, and most meals, provided courtesy of Horace Mann Insurance Company.
While in Springfield, Abraham Lincoln Fellowship recipients will get a behind the scenes look at the Abraham Lincoln Presidential Library and Museum. The Fellowship Program also includes lectures by library staff and Lincoln experts who provide great insight on Lincoln and the Civil War. The five-day event includes special guided tours of Lincoln's Tomb, Lincoln's Home, and the Village of New Salem where Lincoln lived as a young man. Horace Mann agent, Simone Baldwin divulges, "Miss. Olson is in for a once in a lifetime experience that she won't soon forget."
Teachers Insurance Specialists is committed to providing high caliber insurance coverage for local educators and non-educators. "One of the best rewards to working with teachers and our local community is that we are helping to pay it forward," maintains Baldwin.
The Florida insurance savings that Teachers Insurance Specialists delivers to its educator, and non-educator, clients is obvious on their niche website Car Insurance Florida Specialists. "As a Horace-Mann agency, we provide exceptional yet affordable insurance products such as Auto insurance, RV insurance, Boat insurance, Golf Cart Insurance, and other insurance products, so that educators can focus on what's truly important- educating our youth," esteems Baldwin. Consumers can also request a free, no-obligation insurance quote directly from the Car Insurance Florida Specialists website. In addition to car insurance the agents at Teachers Insurance Specialists also offer competitive insurance coverage on home, property and life insurance products.
For more Florida car insurance information visit: http://www.carinsurancefloridaspecialists.com or call 407-622-6634 or e-mail Simone(dot)Baldwin(at)horacemann(dot)com.