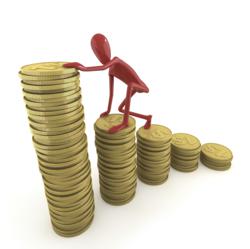 Fort Wayne, Indiana (PRWEB) March 09, 2013
College tuition is skyrocketing, and students are drowning in rising costs. And since 1978 there has been an 812 percent rise in the cost of college textbooks. The average cost of tuition is now anywhere between $5000/yr. at a 4 year public college, to $25,000/yr. at a 4 year private college. Where do students go for help? Recent budget cuts in financial aid leave parents and students alike wondering how to pay for a higher education in such an economy that requires a diploma to earn a median U.S. income.
It seems logical that average students are going to have to work off the debt, right? But, how does a college student work enough to earn what is needed to live in near poverty conditions and focus on their studies? It's a daunting task that many young men and women, in reality, face every day.
To top it all off, any student can admit that textbooks are very expensive after pulling out their "fat wallet" of loan money, semester after continuous semester. What is worse than paying $190 for a single textbook? What does a student do with that book when the semester is over? College bookstores don't want to pay but a mere fraction of what was originally paid, if they will buy it back at all. A service like SellBooks.com is definitely a change in the right direction. This online venue offers a legit, dedicated buyback program specifically tailored for these over-extended students to sell back used textbooks. SellBooks.com reviews each book according to national market demand, and offers a premium payout compared to college bookstores, giving students a large percentage of what was originally paid when the book was new.
With the current rapidly rising inflation rates, governmental budget cuts, and a slower economy than in past generations, students and debt ridden parents are going to have to get creative when looking for diversified income to overcome the challenges that face today's college bound youth. Looking for an alternative to obtaining student loans is a great way to avoid becoming over extended. According to projectonstudentdebt.org, "Two-thirds of college seniors who graduated in 2011 had student loan debt, with an average of $26,600 per borrower." That is an alarming amount of debt being dumped upon this generation of youth that are supposed to be on their way to building the domestic job and housing markets. Instead, they spend an exceedingly large amount of their adulthood repaying student loans.