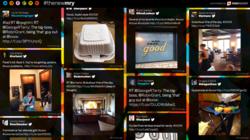 Expect to see brands building interesting Vine mashups using the FeedMagnet platform in the near future.
Austin, TX (PRWEB) March 09, 2013
Today FeedMagnet is announcing support for Vine video content in their social marketing platform. FeedMagnet is the first enterprise marketing platform to integrate Vine in a way that enables brands to use the content in marketing campaigns, promotions, and branded content hubs.
Vine, a quick and easy video sharing app recently acquired by Twitter, is gaining users rapidly as they ride the wave of press mentions and get integrated more into the Twitter experience.
Twitter had this to say about the new service from Vine: "Like Tweets, the brevity of videos on Vine (6 seconds or less) inspires creativity. Now that you can easily capture motion and sound, we look forward to seeing what you create."
FeedMagnet founder, Jason Ford, says "We see potential for brands to use this new content source for even more engaging campaigns and promotions. Just as Instagram has proved to be a great content channel for visual, real-time brand engagement, we believe the short form-factor and tight integration with Twitter will enable Vine to provide similar value for brand engagement."
If you happen to be in Austin for SXSW, you can see Vine in action at the MRY (formerly Mr. Youth) party, Saturday night at the Belmont, which will feature a giant social wall powered by FeedMagnet, displaying Instagram, Flickr, Twitter, Facebook, Google+, YouTube – and now Vine content.
Expect to see brands building interesting Vine mashups using the FeedMagnet platform in the near future. Vine contests, microsites, retail displays, and other experiences that use the Vine platform to drive engagement and captivate audiences.
FeedMagnet provides a social media integration system enabling brands and organizations to create engaging marketing and sales experiences through real-time social content. Powered by its innovative aggregation and curation engine, FeedMagnet delivers social content to power websites, Facebook pages, event displays and billboards with dynamic authentic content targeted to its client's objectives. FeedMagnet's clients include Verizon, GE, Dow Chemical, Sephora, McDonald's and AOL. For more information, visit http://www.feedmagnet.com.