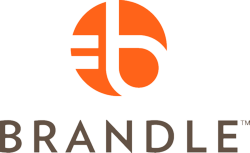 Brandle is creating a new genre of brand management that begins with securing authenticity and recording ownership.
Petaluma, CA (PRWEB) March 11, 2013
BrandleTM, Inc., a company focused on enterprise online brand presence management, today announced the close of its Series AA round with a total investment of $1,050,000. Anthony Sun, former Managing General Partner of VenRock Associates (2002-2010), led the round which was facilitated by Wilson Sonsini Goodrich & Rosati. As part of the investment, Mr. Sun joins the Brandle board of directors, which includes Chip Roberson, founder and CEO, and Jim Levy, founding CEO of Activision, Inc. Brandle will use the funding to accelerate development of the Brandle System, manage their beta program, and prepare a launch campaign for their initial target market of the social enterprise.
"We believe that social media accounts, which represent a company's brands, are web property that should be tracked and managed like any other corporate asset," said Brandle founder and CEO, Chip Roberson. "This round of funding will allow us to bring to market a product that finally gives companies the ability to audit, inventory, record ownership of, and patrol their brand points of presence, regardless of platform or number of accounts."
"Brandle is creating a new genre of brand management that begins with securing authenticity and recording ownership", said Tony Sun. "This approach will become a competitive solution for the enterprise, that will help clarify ownership, bolster their brand and protect against unauthorized activity."
The rise of "social business" has expanded the number of places where a company's brand or identity is represented (or even misrepresented). Today, the problem is escalating as more enterprises are creating a "social workforce" by empowering their employees to engage with customers using personal social media accounts.  This has created a significant challenge for businesses to keep track of all these brand points of presence (POPs) and the methods currently available (e.g. spreadsheets) are ad hoc and not up to the task.
 
"To date, systems for managing social media have focused primarily on content - what the brand communicates and what others communicate about the brand," stated Chip Roberson. "We believe that before a company worries about content at a POP, it needs to secure the POP itself. Brandle is the first and only system that gives the enterprise the tools it needs to own and manage its inventory of online brand assets."
About The Brandle System
The Brandle System is a patent-pending SaaS framework that gives any company with a digital presence the power to audit, inventory, record ownership of, and patrol brand points of presence (POPs) that exist across the web. Once ownership is established, each POP receives a POP Deed and each Brandle receives a Brandle Certificate of Authenticity in the Brandle Registry, documenting both lineage and ownership.
About Brandle, Inc.
Brandle, Inc. is dedicated to providing a comprehensive system for companies to easily manage the properties of their brands, identities, and relationships across the web and on all major social networks including Facebook, Twitter, YouTube, LinkedIn, Google+, SlideShare, and Pinterest. It is our mission to become the trusted source for the management and verification of online brand and identity presence. We are headquartered in Petaluma, California, just 35 minutes north of San Francisco.