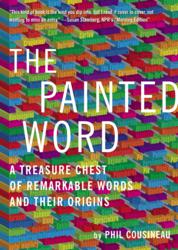 (PRWEB) March 11, 2013
Smart marketing, diligent sale efforts, and a list of excellent books helped make this possible for the company. Read what Publishers Weekly had to say about Cleis Press and Viva Editions here.
"If you has asked me to predict how 2012 would end for Cleis and Viva," said founding publisher and CFO Felice Newman, "I would never have guessed that we would wind up having our best year ever. In an industry that is contracting, we don't give up—it only makes us work harder so we can grow and sustain ourselves year after year. We truly have something for every reader, and it's nice to see our books continue to find their audiences."
Significant publicity hits helped harvest excellent Q4 sales. Phil Cousineau, author of The Painted Word, was on NPR and Wisconsin Public Radio, which sent his book soaring in sales. Karen West of The Book Passage stated, "We had never seen such walk-in customer demand for a book as after Phil Cousineau was on with Michael Krasny and KQED Forum. Keep him on the radio!" Tony Burroughs did a 30-city Intenders roadshow for Get What You Want, selling books by the case in each Intenders Circle all across California, Arizona, New Mexico, and Colorado.
Viva Editions has a group of indefatigable workshop warriors such as Allen Klein, author of The Art of Living Joyfully and Inspiration for a Lifetime, who does his own backroom sales in his travels speaking at hospitals, banks, and corporations. Carole Brody Fleet, founder of Widows Wear Stilettos and author of Happily Even After, is a motivational speaker with Camp Widow and Soaring Spirit Foundation as well as the Navy SEALs and military families dealing with loss.
The January 2013 sales were twice those of January 2012—trending well with advance sales to the trade and non-returnable special sales. Tristan Taormino, author of The Ultimate Guide to Kink, has become the spokesperson for "the real Fifty Shades of Grey." She has been on E! Entertainment TV five times, which has sold out the print run of her book, as well as of her other book Opening Up.
2012 was also a boom year for audio books for Cleis Press and Viva Editions, especially for the backlist. Frenzy: 60 Stories of Sudden Sex was number one in the romance and erotica category multiple times, and has sold thousands of audio copies. Audible Editor-at-Large, Susie Bright, the legendary sexpert, curated a selection of Cleis Press classics, including multiple award-winning, critically acclaimed The Unreal Life of Sergey Nabokov by Paul Russell.