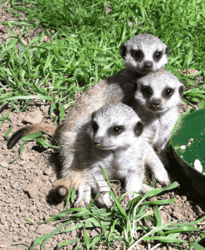 It has been wonderful watching the mob raise the pups. It has truly been a collective effort and all the adults are taking their turns caring for and teaching the new pups their different roles and jobs needed to be a productive meerkat. - Victor Alm
Oakland, California (PRWEB) March 10, 2013
Oakland Zoo is excited to announce three new meerkat babies, called pups, to the current mob (group of meerkats). Their names are African in origin and are Ayo (joy), Rufaro (happiness), and Nandi (sweet). The pups are approaching six weeks of age and are doing well.
This is very exciting news for Oakland Zoo as it is the first successful litter of meerkat pups in over a year. Keepers have been doing a great job monitoring and keeping close tabs on the six week old pups' movement and behavior. Meerkat pups are very fragile and infanticide, the killing of an infant by others in the mob, is not uncommon. However, the mob has been taking good care of the pups, so there are high hopes for this litter. Victor Alm, Zoological Manager, stated:
"It has been wonderful watching the mob raise the pups. It has truly been a collective effort and all the adults are taking their turns caring for and teaching the new pups their different roles and jobs needed to be a productive meerkat."
There are now a total of eight meerkats in Oakland Zoo's mob, three of which include the new pups. The adult group consists of three females and two males. Adults can weigh up to two pounds. Mealworms are among the meerkats' favorite treats. Since the keepers have been very hands off with the meerkat pups and will continue to be hands off for the first few months, the sexes of the newest additions are unknown. All eight meerkats are on exhibit at Oakland Zoo and may be viewed during normal business hours, 10:00am - 4:00pm.
***Media Advisory***
On Monday, March 11, from 2:00pm – 3:00pm, Oakland Zoo will be offering media a closer look at the Zoo's six week old baby meerkats (pups). An Oakland Zoo Animal Keeper will be available for interviews during this time. If you plan on attending, please contact Nicky Mora, Senior Manager, Marketing/PR at (510) 632-9525, ext 130 or e-mail nmora(at)oaklandzoo(dot)org***
About Meerkats:
Meerkats are social animals and live in groups that are called mobs. The group is led by a dominate male and female pair and only this pair is allowed to breed within that group. If other meerkats become pregnant and give birth, the dominant pair will not tolerate it. Meerkats are carnivorous mammals that will eat insects, scorpions, small mammals, and even small reptiles. If necessary, meerkats will also eat small amounts of roots, fruit, or vegetable matter. Meerkats love the sun. They have dark fur patches located on their belly that act as a solar panel that will warm up prior to activity or going to sleep.
ABOUT OAKLAND ZOO:
The Bay Area's award-winning Oakland Zoo is home to more than 660 native and exotic animals. The Zoo offers many educational programs and kid's activities perfect for science field trips, family day trips and exciting birthday parties. Nestled in the Oakland Hills, in 500-acre Knowland Park, the Zoo is located at 9777 Golf Links Road, off Highway 580. The East Bay Zoological Society (Oakland Zoo) is a nonprofit 501(c)3 organization supported in part by members, contributions, the City of Oakland and the East Bay Regional Parks. For more information please visit our website at http://www.oaklandzoo.org.
Contact: Nicky Mora, Senior Manager, Marketing/PR
(510) 632-9525 ext. 130
nmora(at)oaklandzoo(dot)org