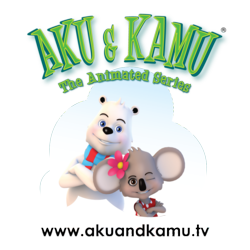 Aku & Kamu is one of the most exciting and dynamic projects that I have been involved in for many years.
Birmingham, West Midlands (PRWEB UK) 11 March 2013
Birmingham based publisher Aku & Kamu is celebrating the transition of their flagship children's characters onto the small screen, produced in association with Starstruck Media.
The company, who produce the Aku and Kamu range of children's books, are breaking into the children's television market after the success of the hardback series.
With a prominent BAFTA and RTS Award-winning Children's Television producer, director and writer on board, it promises to be a very exciting production, built on a solid educational core and immersed into a fun proposition for children.
The current Aku & Kamu portfolio includes storybooks, learning cards, stationery and toys. A range of apps for mobile and tablet devices have also been launched.
The company will be exhibiting at this years' Children's Book Fair (Hall 25, Stand B69), which is taking place between 25th – 28th March in Bologna and aim to use the event to promote their products to a global market. Furthermore the company will be looking to secure overseas distribution channels as well as selling foreign rights to the books, television series and merchandise that is due to be launched later this year.
The Bologna Children's Book Fair is the most important international event dedicated to the children's publishing and multimedia industry. This year is extra special as the event celebrates its 50th anniversary.
As well as being educational, the Aku & Kamu product range has been designed to help to develop children's communication, creative and interpersonal skills. Furthermore, they have been designed to help increase interaction between teachers, parents and guardians as they learn through fun.
Asif Bashir, the creator of Aku & Kamu said "Parents have the most important and enduring relationship with their children and children learn more from their home environment than any other setting. They are key partners in their child's learning."
"With Aku and Kamu, we have blended learning with creativity to create two unique, lovable characters which we hope children all over the world will learn to love." he added.
The company is already operating on a global scale, as the animation factory is based in Italy, the production team is based in Malaysia and the content team is based in the UK.
"Aku & Kamu is one of the most exciting and dynamic projects that I have been involved in for many years. It ticks all the boxes – of entertaining, educating, informing and inspiring a young audience – and is both personal and global in its content and appeal. Asif Bashir has created two endearing and loveable characters in Aku & Kamu, both of whom will undoubtedly become firm favourites with children everywhere." said Adrian Hedley, the Director and Scriptwriter for the series.
The books also include embedded messages, for example, book six in the series is used to relay positive health education messages based on the healthy lifestyle framework.
With the launch of the animated television series, the company aim to blend traditional storytelling with animation to create a fun, educational and entertaining proposition for children.
More details on Aku & Kamu can be found at http://www.akuandkamu.com
About Aku & Kamu

The Aku & Kamu stories are designed to be fun whilst also relaying positive messages to children and parents, hence the initial proposed product line up for the adventure series. There are twelve books in the series, of which the first six have been released, covering a range of key topics. Each is written with a simple premise, to make children smile and thus make learning a fun experience.
High resolution images can be downloaded from http://www.akuandkamu.com/downloads/press.zip
Executive Producer: Adrian Dickson

Adrian Dickson started his television career on screen as a host of shows for the BBC, including 'Top of the Pops'.
Adrian Dickson created Starstruck Media in 2004.
To date, the company has produced hundreds of programmes for a number of broadcasters and online outlets worldwide, many of which Adrian has executive produced.
Director / Scriptwriter: Adrian Hedley

Adrian Hedley is a prominent BAFTA and RTS Award-winning Children's Television producer, director and writer, with a distinguished portfolio of series made for CBBC, CITV, Channel 4 & 5, Disney, Nickelodeon, SKY, Al Jazeera, Television New Zealand and DsTV South Africa.
He has worked across a wide range of genres, from factual and educational to drama and entertainment, including The Investigators, Sooty, Fimbles and Big Cook Little Cook.
He recently collaborated with Blue Zoo Animation Studio over two seasons, directing the hugely successful 2012 British Animation Award nominated children's series "Get Squiggling" for CBeebies.