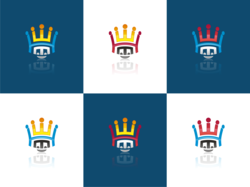 99designs provides a unique platform to showcase design skills from professional and amateur website developers, and manages a well designed platform with easy registration and one-click access
New York, NY (PRWEB) March 08, 2013
Earlier this week, incoming management from popular hosting review website Web Hosting Masters announced a surprise buyout, and launched a logo design contest open to graphic designers all over the world, with a generous $300.00 1st prize awarded to the winning entry.
Hosted on design marketplace community 99designs, the contest ran for a full (4) days and attracted almost 500 unique designs from all over the world.
99designs provides a unique platform to showcase design skills from professional and amateur website developers, and manages a well designed platform with easy registration and one-click access. The site hosts literally hundreds of contests each month where small business owners can preview hundreds of different samples for a flat fee.
A fun, and engaging interactive community where designers are able to showcase their skills from every realm of website creation and corporate branding. 99design often runs contests for logo design, business cards, t-shirts, postcards, brochures, mobile apps, banners and product packaging.
After considering hundreds of samples, the winner was chosen early Friday and the new logo was immediately branded on Web Hosting Masters, with thanks and accolades extended to all the participating competitors.
Web Hosting Masters is a centerpiece for hosting reviews comparing price points, service levels and overall quality from literally hundreds of hosting providers all over the world. The recent shift in management and the change of ownership in addition to the logo competition on 99designs.com has resulted in a huge traffic surge for Web Hosting Masters as the site undergoes a facelift and complete transformation.
For more information, or to review features and offers from literally hundreds of hosting providers, simply click http://www.webhostingmasters.com