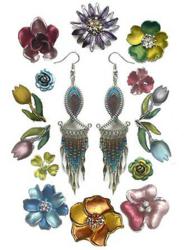 Hayward, CA (PRWEB) March 09, 2013
With the vernal equinox less than two weeks away, the season of spring is very much upon shoppers looking to stay current. March 20 marks the beginning of the season characterized by color, florals, and vivacity in fashion, and Bella Fashion stays up to date with new arrivals of spring themed earrings.
The flower series of earrings is a group of new arrivals that are perfectly aligned with the spirit of the season. Nothing says spring more clearly than florals and vivid hues that match the blooming environment, and Bella Fashion's new line of flower earrings make the declaration of spring loud and clear. These earring options feature perfectly crafted petals that resemble the flowers just beginning to bloom. The floral design come in post and clip-on options, similar to glamorous earrings worn by actress Sofia Vergara at the 2013 Golden Globe Awards. New arrivals coincide with the sunny season, offering complementing colors. Vivacious pink and soft salmon tones combine in the four-petaled floral design that will look elegant on any shopper's earlobes, with similar options available in a summery tangerine and sun yellow combination. Earrings modeled after roses are now available in a nature-inspired leaf green and purple. The adorable new tulip shaped earrings will bring the garden with the wearer wherever she goes. The new line of floral earrings comes in both post and clip-on options to open them up to a variety of shoppers, and five-petaled dangles evoke the floral spirit in royal purples and reds.
For shoppers looking for something unique and lively to go with new spring outfits, Bella Fashion's new line of hand-crafted dangle earrings are colorful and creative choices. The twisting beaded designs feature a vibrant thread-woven quality that will draw eyes from every angle. Bright and vivid beads dangle from the high quality earrings that boast beautiful designs that evoke nature. From crescent moon shaped structures to feather-like dangles, the new line of dangle earrings are a great look that show an appreciation for the bright hues of nature. With vivid orange, pastel pink, and red options now available, shoppers can choose accessories that bloom as bright as the poppies and zinnias outside.
Shoppers have a bright and vivid warm season ahead, and these warm and vibrant spring colors will make a wave throughout the quickly approaching spring and summer. The new earrings are available at Bella Fashion Jewelry and Bella Fashion Wholesale, but these high demand products will sell quickly.
About Bella Fashion Inc.
Bella Fashion Jewelry is a leading provider of fashion jewelry and fashion accessories to help customers stay up to date with the latest fashion trends at affordable prices. Bella Fashion Jewelry has been in the business of fashion jewelry and accessories for over 21 years. Bella Fashion Jewelry, owned and operated out of Hayward, California, now operates at three levels: at retail site, bellafashionjewelry.com, no minimum order amount is set, and pricing is at everyday discounted retail pricing. Free shipping is offered for orders of $30 or more. At bellafashionwholesale.com, 1st and 2nd tier of wholesale pricing are offered, minimum order amount is set at $30, and shoppers are allowed to buy 1 each of each style or color with free shipping for orders of $60 or more. At its newly launched wholesale site, hairbarretteswholesale.com, products are offered in dozen packs, as well as "by the piece". Pricing is at 3rd tier wholesale pricing for the dozen packs.