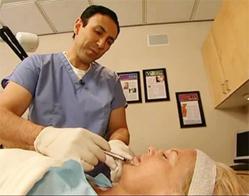 Los Angeles, CA (PRWEB) March 09, 2013
According to a February 14, 2013 ABC News article, the anti-aging cosmetic industry is booming, having reported $2.9 billion in sales for the year 2011 alone. This segment of the beauty industry has recently been under scrutiny for the claims made on the labels of their products; terms like organic, lifting, and brightening are often misleading. (Go to: goo.gl/zU1Dw)
"As a physician, I'm bound by rules of advertising that are straightforward and simple: only the truth is acceptable," says Dr. Simon Ourian, Medical Director of Epione Beverly Hills. "As the developer of my Signature Series line of skin care products, I adhere to the same ethic. We don't make claims we can't substantiate and I don't see why this shouldn't be the absolute rule for any cosmetic manufacturer. More regulation or better enforcement of existing rules may be necessary to protect consumers"
Most consumers buy a product because they expect the product will deliver on its claims. Claims on anti-aging products can range from tightening, smoothing, and covering imperfections to making fine lines and wrinkles disappear.
Lancôme, a giant cosmetic producer, was warned by the FDA about making unfounded claims about their anti-wrinkle product lines. Lancôme was informed that it had to tone down these claims in order to continue to sell the products.
Other terms, such as "organic" are not regulated at all. While many beauty products display this term, only those with the organic seal from the USDA are truly organic. Claims like 100% natural or 100% pure, are not regulated either. There is simply no regulatory definition for these terms available.
"Broad spectrum" is one well-known term that is regulated. This term is used on products that provide protection against the UVA and UVB ultraviolet rays of the sun.
"Perhaps because its use directly impacts consumer health, sunscreen labeling is well regulated, and I'm grateful for that" says Dr. Ourian. "If you can't stay out of the sun, cover up as much as possible and use a sunscreen with an SPF of 30 or higher. I agree with the article, sunscreen is the best anti-aging product I can recommend."
Dr. Ourian has been a pioneer in laser technology and non-invasive aesthetic procedures including Restylane, Juvéderm, Radiesse and Sculptra. These treatments are used for the correction or reversal of a variety of conditions such as acne, acne scars, skin discoloration, wrinkles, stretch marks, varicose veins, cellulite, and others. More information about labeling on anti-aging products can be found on Epione's website.