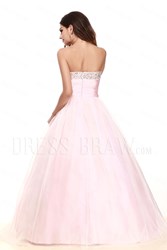 Our wedding dresses 2013 collection comes in various colors and styles, available in 16 colors and from size 2 to 16.
(PRWEB) March 18, 2013
DressBraw.com, a popular brand in women dresses, has recently introduced its wedding dresses 2013 collection, which comes in various colors and styles, available in 16 colors.
This new collection includes the latest wedding dress trends in 2013, such as little black dresses, printed dresses, and lace dresses, and, etc. Along with other collections showcased on the website of DressBraw.com, this particular collection is available at special prices also. At DressBraw, customers can find their dream dresses from a great selection of wedding dresses, ranging from stylish lace wedding dresses to casual wedding dresses.
Edmond Liu, CEO of DressBraw.com, said, "I cannot wait to introduce our wedding dresses 2013 collection, coming in all shapes and sizes, to loyal our customers. Browse through our stunning collection of stylish and chic women's dresses perfect for your big day; simply choose from an array of fabrics and colors to make the dress suit the feel and style of your upcoming event."
In addition, the company has recently revealed its evening dresses 2013 collection, including many items of plus size evening dresses.
DressBraw.com is a China based online retailer that specializes in women wedding outfits and women special-occasion dresses. They aim to provide high quality apparels at the lowest prices. Their strict quality control, low rates and amiable customer services have made them one of the leading brands worldwide.
For more information, please visit: http://www.dressbraw.com/?utm_source=content&utm_medium=news&utm_campaign=index