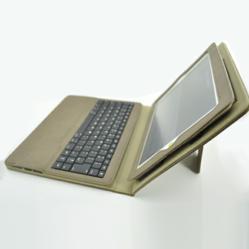 Leather case and Bluetooth keyboard for protecting your iPad and iPad mini.
(PRWEB) March 12, 2013
New Bluetooth keyboard for iPad and iPad mini is now available in the market from Shenzhen Esorun Technology Co. Ltd. This Bluetooth keyboard is handy, convenient and affordable.
The iPad mini and the iPad are some of the most popular and top selling touch screen gadgets available in the market today. Touch screen technology makes smart phone and tablet handling and functionality easier and more convenient for users. Even children in this generation are brought up with touch screen technology.
Touch screen adds simplicity to the physical structure of smart phones since it has lesser parts to deal with. But the challenge with touch screen technology is that the entire screen feels the same, it is hard to differentiate the keys when typing, especially for people who are used to the feel of a real key board. A real keyboard is easier to type with for people who are used to it. Shenzhen Esorun Technology Co. Ltd has come up with a solution for this.
Shenzhen Esorun Technology Co. Ltd offers Bluetooth keypads that can be used for both the iPad and the iPad mini. The Mini Bluetooth Keyboard BK04 is a popular choice for many. It has a 78 key design with 7 multimedia keys, is wireless and is ultra thin. It's battery operated and rechargeable, and comes in black and white. For those who want more information about these great Bluetooth keypads for iPad and iPad mini can look them up on their official website.
About Esorun Technology Co Ltd
Esorun is a professional technology company that manufactures and supplies iPhone and iPad accessories, wireless external hard drives, wireless chargers, power banks, iPhone battery cases, Bluetooth speakers, fly mouses and other phone accessories.