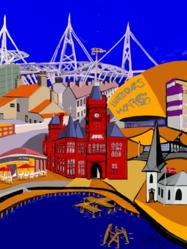 The Bay and Grangetown. An original painting by Matol sponsored artist Chris Langley.
Cardiff, UK (PRWEB UK) 12 March 2013
Matol UK, in association with Preventative Measures, Canada, the main distributor for Matol products in the UK is pleased to announce sponsorship for Welsh artist Chris Langley throughout 2013.
Julie Morgan, A.M., has also recently agreed to sponsor Chris' art for a prestigious event at the Oriel Gallery in the Senedd, The Bay, Cardiff throughout May 2013. Chris has paintings on show in many public areas in Wales including the Priory Hotel, Caerleon and Staples Superstore, Cardiff. Restaurants: The Princess, Pontypridd, The Louis and Merollas in Cardiff.
Chris has also been featured in the Western Mail, Media Wales and The Metro newspapers, in addition to providing work for local magazines such as Aura and Cardiff Hauntings, a local tour company.
He was also Featured Artist on Artgallery.co.uk, where a number of works are on show. Chris says: "This is a big honour for me to be able to show my work in the most important building in Wales. I would like to thank Julie Morgan and Matol UK for their sponsorship."
Chris has been associated with Matol and Preventative Measure for over 15 years, and takes Km every day. Their main product, Matol Km is a herbal drink made of a unique formula of 13 herbs and 5 minerals. Over 40 million bottles have been sold worldwide since 1984.
For further information and to see what Matol Km does for people, Google Matol UK or go to: matoluk.com. In addition, Matol UK have just launched a Facebook site at http://www.facebook.com/13herbs. Tel: Matol UK on 02920 733324.