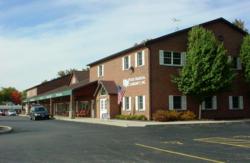 The project has a solid base of longer term retail tenants as well as some upside potential in vacant office space.
Columbus, Ohio (PRWEB) March 12, 2013
Gryphon Asset Management and its' principals Richard and Melissa Kruse have been appointed as receiver and ordered to take control of the Grace Plaza retail center just outside of downtown Powell, Ohio, a suburb of Columbus.
The Complaint in Foreclosure was filed on behalf of Heartland Bank and against Grace Plaza owner, Michael Costanzo, on January 14, 2013 with a Motion for Appointment of Receiver filed on February 4, 2013. On February 15, 2013 Judge Duncan Whitney found that a receiver was warranted and appointed Gryphon to take immediate control of the center.
Grace Plaza is comprised of 6 retail and 4 office units for a total of 15,775 SF on 1.33 acres. Gryphon will manage the property internally for the short term and potentially bring in an outside manager after the transition from Mr. Costanzo to the receiver is completed. The property will eventually be marketed for sale.
About Gryphon USA, Ltd.
Gryphon USA, Ltd. is a multi-faceted asset management and liquidation firm focusing on the operations and dissolution of single assets through and including entire companies. Gryphon maintains a receivership and asset management group; commercial auction practice; art, antique and pottery auction group and real property management group. Real estate transactions are managed through Borror Properties Real Estate.
Melissa M. Kruse oversees the day to day operations of the parent company, Gryphon USA, Ltd. while Gryphon Asset Management operations are managed by Richard F. Kruse. Auction operations are directed by Peter Gehres and Borror Properties is managed by Lori Steiner.