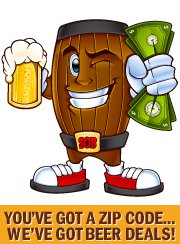 Please, for the love of God, stay away from the green beer.
Houston, TX (PRWEB) March 13, 2013
Consumers looking to buy authentic beer from Ireland have several brands to choose from, say the founders of SaveOnBrew.com, a retail beer price search engine.
"Guinness is the brand most people associate with Ireland," says CEO Mark Davidson. "It's a low-alcohol session beer from Dublin that is full-bodied and creamy like a milkshake, with the flavor of dark roast, chocolate, cappuccino, dry hops and bitter yeast." He adds that Guinness sales are aplenty this year and they can be located by typing one's zip code into the database at SaveOnBrew.com.
Beamish Stout hails from Cork, Ireland and was the local Protestant-owned brewery. The ingredients undergo a two-week brewing process using a special type of yeast that dates back to 1792. This stout is also thick, with notes of light malt, chocolate and caramel, and a bitter, hoppy aftertaste. "Compared to Guinness, Beamish is a bit sweeter," Davidson explains.
Murphy's Irish Stout is the lightest and sweetest of the stouts, finishing more like a glass of chocolate milk. This beer comes from the Catholic-owned brewery of Cork.
Harp Lager is a lighter style of beer originally brewed in Dundalk, Ireland. It offers a crisp, refreshing flavor with a light floral hops aroma and excellent balance.
Smithwick's Red Ale dates back to 14th century monks and is the preferred beer of South Leinster. This bready beer has a sweet caramel malt flavor and is light on hops.
"Please, for the love of God, stay away from the green beer," Davidson cautions. "Not only is it a cheap parlor trick that tastes awful, but it will also make you look like a total doofus and have you feeling green the next day."
More beer suggestions and beer sale listings are available at SaveOnBrew.com, the world's only local beer price search engine.
About SaveOnBrew.Com: Founded in 2010 to help thirsty beer drinkers across the United States find the lowest advertised prices for one of the world's most popular beverages.