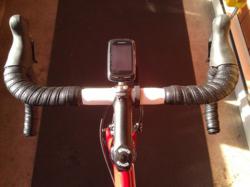 The level of improvement in the Edge 510 over the 500 is very significant because it added touchscreen, the Garmin out front bike mount, instant upload and even a barometric altimeter
Bozeman, MT (PRWEB) March 11, 2013
The Garmin Edge 510 has been voted the best bike computer value for 2013 by the Heart Rate Watch Company.
"The level of improvement in the Edge 510 over its predecessor is significant because it added touchscreen, the Garmin out front bike mount, instant upload and even a barometric altimeter", says Rusty Squire, President of the Heart Rate Watch Company. He adds, "These were all very well thought out improvements, many of which migrated over from the Garmin Edge 800, which was the first-ever touchscreen bike computer".
"Garmin increased the price by $30 over the former Garmin Edge 500 bundle and added a lot more value", says Squire. He adds, "The Garmin Edge out front bike mount is a $30 accessory if purchased separately and when combined with touch screen, a barometric altimeter and instant upload it is significantly nicer than the 500", says Squire.
Safety Features Plus Live Weather
"Touch screen is far preferable to button navigation for safety because there is no fumbling and the out front bike mount keeps your eyes forward", says Squire. "These additions to safety are important, plus having live weather can be very handy for safety as well".
The barometric altimeter has helped improve on board altitudes out on the road. "Garmin always had a nice altitude correction feature in their Garmin Connect software that uses surveyed altitude to get your altitude accurate after the workout is downloaded", says Squire. He adds, "Garmin offers inclination, power from ANT+ power meters and so many nice features with the new instant upload that nothing else on the market today matches the features".
It's Simple: Pros Use The Best Gear Possible
When one looks at the pro ranks in the largest bike races in the world there will be a lot of Garmin Edge 510 head units. "A lot of riders use SRM units too but they are nowhere near as well featured as the Edge 510", says Squire. He adds, "There will be a few Polar head units, primarily the Polar CS500 and then a smattering of other units at the professional level". Squire said he likes to consider what the pros are using because they generally tend to use the very best gear available.