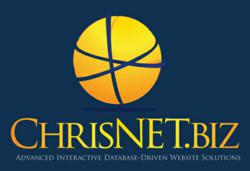 working hard to see the internet as FREE as possible
Rochester, NY (PRWEB) March 10, 2013
ChrisNET.biz has created an unlimited domain, unlimited e-mail address, unlimited storage and unlimited bandwidth hosting package for 400 to possibly 800 customers that are willing to stress test the system over the next year.
"Come get grandfathered in at 10 dollars a year and enjoy unlimited hosting that I manage personally, daily," said Christopher Porreca - Owner of ChrisNET.biz.
ChrisNET.biz is looking for investors and relationships to better itself. It has introductory rates that include the purchase of a domain name for 25 dollars per year -- including everything you would want to get. WHMCS frontend and cPanel backend on a commercial hosting account and dedicated virtual servers create a tight network that is both inexpensive and easy to manage for one person.
WHMCS and cPanel aren't the only buzz words you might recognize. Hostgator hosts the main website and Rackspace holds the servers for ChrisNET.biz.
"It's a little more expensive going with the name brands, but we never go down - and that makes it worth it." said Chris.
Most importantly, ChrisNET.biz is looking to become the first Dual-Service ISP offering both wired and wireless to it's customers at the same time.
"I've been online since 1996 and working hard to see the internet as FREE as possible!" Chris directed.
ChrisNET.biz hopes to become Worlds Biggest Cloud VISP, with over 15 years ISP experience.
Specifics: http://www.chrisnet.biz/link.php?id=7
###
For more information about this or any other ChrisNET.biz topics, or to schedule an interview with Christopher Porreca, please call 800-236-0649 or e-mail him at contact@chrisnet.biz !