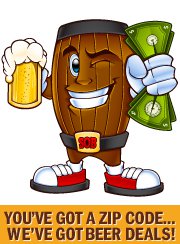 We really wanted to know what secrets he's holding in that beard of his.
Houston, TX (PRWEB) March 15, 2013
Sun King Brewing Company beers have won medals at the World Beer Cup, Indiana Brewers' Cup, the Great American Beer Festival and AmeriCAN Canned Beer Festival. They are known for pushing the envelope with unique new flavors like bourbon barrel-aged ales, raspberry stouts, and rye IPAs.
This month, SaveOnBrew.com – the world's only beer price search engine – interviewed Sun King Brewing Co-Founder Clay Robinson to learn more about the creation of these unique brews.
"My favorite beer is our Osiris," Robinson told SaveOnBrew. He added that it "does a great job of showcasing both Cascade and Nugget hops -- without overwhelming your palate."
He talked about sampling beer made with kombucha at the Great American Beer Festival, which was really exciting, but added that the most common mistake people make in brewing is that they throw too many ingredients into the mash. "That's not to say that there isn't room for complexity; it's just that you need to make sure the flavors complement each other, rather than muddy things," he explained.
The interview also highlighted what the day-to-day life of a brewer is like, the truth about canned beers, and what exciting new flavors Sun King Brewing is working on next.
"We liked talking with Clay because he seemed like a really cool, down-to-earth guy," SaveOnBrew founder Mark Davidson said. "Plus, we really wanted to know what secrets he's holding in that beard of his," Davidson laughed.
For an accurate, updated list of beer sales and the complete interview with Clay Robinson, visit SaveOnBrew.com.
# # #
About SaveOnBrew.com: Founded in 2010 to help thirsty beer drinkers across the United States find the lowest advertised prices for one of the world's most popular beverages.