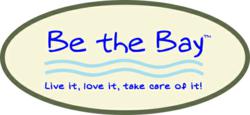 We've always thought of ourselves as part of the Bay scene. It's exciting to literally be in The Bay Scene.
Hampton, Va. (PRWEB) March 11, 2013
Be the Bay is part of The Bay Scene. Literally.
The Bay Scene at Signature CanvasMakers in Hampton is the newest authorized dealer of Be the Bay wear and gifts.
"We are so excited to be partnering with Be The Bay," said Charlene Clark, who owns Signature CanvasMakers and its retail shop, The Bay Scene, with her husband, Chandler. "Their dedication to preserving the Chesapeake Bay, the quality of their products and their whimsical designs highlighting the natural beauty, recreational appeal and functionality of the Bay make them a perfect fit for our boating clientele."
Be the Bay is a casual apparel company featuring original Chesapeake Bay-themed art by its marine biologist founders, Paula and Dave Jasinski. It launched in 2007 as a way to celebrate everything people love about the Chesapeake. A portion of sales are donated each year to Chesapeake Bay restoration projects.
"It's always an honor when we can partner with fellow lovers of the Bay," said Be the Bay President and Founder, Paula Jasinski. "We've always thought of ourselves as part of the Bay scene. It's exciting to literally be in The Bay Scene."
Signature CanvasMakers was established in 2005 by owners Chandler and Charlene Clark. Chandler began his career while serving as a Senior Chief in the U.S. Navy in New Orleans, where he worked pro-bono at a sail loft to gain experience in the marine canvas industry.
Upon his return to Virginia and the civilian world, he partnered with an established canvas shop in Hampton and further honed his skills. Charlene worked in sales and marketing in the hospitality industry for more than 22 years with companies both domestically and internationally and helped establish and execute marketing plans to build brand awareness, increase revenues, and identify strategic marketing opportunities. In January 2009, Chandler and Charlene opened their own canvas shop in Hampton. In April of 2010, Charlene joined Chandler full-time to manage Signature CanvasMakers.
Signature CanvasMakers has been selected for numerous "Outstanding Achievement" awards by the Marine Fabricators Association (MFA) and has also been awarded the distinction of "Best of Bay" for canvas work by Chesapeake Bay Magazine for 2011 and 2012.
The Bay Scene at Signature CanvasMakers is located at 9 South Mallory Street in Hampton, Va.
They carry a variety of Be the Bay's designs, including, among other popular designs, "Sail the Chesapeake," "peace love oysters," "peace love blue crabs," and 100 percent woven silk blue crab ties.