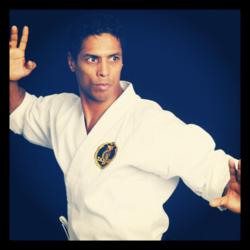 Whatever your fitness level or personal wellness goals, Taimak will design a regimen tailored to help a person achieve their desired results.
New York, NY (PRWEB) March 13, 2013
Taimak's career as a martial arts champion, trainer, and choreographer spans over 30 years. Until now, he has employed his skills and talents exclusively in the entertainment industry, having worked with such luminaries as Madonna, Debbie Allen, and Jaime King. He has been featured in movies, music videos, and television shows, showcasing his art, talent, and sense of humor. People might remember Taimak's first movie appearance in the classic 1985 martial arts movie, The Last Dragon, in which he plays Leroy Green, a martial artist seeking to attain The Glow, the highest level of mastery.
Now almost anyone can achieve The Glow, with TaimakFit.
Taimak is proud to announce the launch of his new fitness training program, TaimakFit, bringing the benefit of his lifelong experience and wide-ranging knowledge to the public for the first time!
An ACE certified personal trainer, all-around athletic competitor and marathoner, Taimak has also dedicated himself to the study of nutrition and mental health. By combining his extensive knowledge of martial arts with his deep understanding of fitness, health, and wellness, Taimak has created a holistic fitness program that can be tailored to meet a person's individual needs. TaimakFit offers personalized training and knowledgeable support for:

Weight Loss
Nutrition
Health and Vitality
Core Strength
Boxing/Kickboxing
Martial Arts
Flexibility
Over the years, Taimak has successfully guided hundreds of people toward achieving their training and self-development goals. Now others can take advantage of Taimak's lifetime of experience, training, insight, and holistic approach to inner and outer fitness, with TaimakFit.
Whatever a person's fitness level or personal wellness goals, he will design a regimen tailored to help you achieve your desired results. Taimak offers private sessions and free consultations in his New York City studio.
To learn more about Taimak and TaimakFit visit http://www.iamtaimak.com .