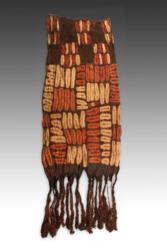 imagine weaving a cloth tube with no seams
Chicago, IL (PRWEB) March 10, 2013
Primitive, the well known Chicago gallery has opened an exhibition of rare, hand woven African ceremonial skirts known as "heirloom cloth." Created by the Dida People in the Ivory Coast, the textiles are woven without the use of a loom utilizing a now "extinct" weaving technique. Dida women assembled bundles of fibers from the raffia palm tree and deftly braided them by hand into tubular skirts with no seams. The result is a distinctive cloth cylinder or tube meant to be worn as a form of finery. This type of weaving is difficult, time consuming, and takes talent and patience. Textile collectors consider the pieces in the exhibition one of the rarest and most sought after forms of African weaving.
On the plains of the Ivory Coast, the raffia palm tree can have leaves as large as 50 feet long by ten feet wide. Fibers pulled from the underside of the leaves were dyed and woven using a technique called "Tubular Oblique Interlacing." In regard to this technique, Glen Joffe, the owner of Primitive said, "it sounds like a phrase from a medical textbook, but it's a just way to describe this unique type of weaving. Imagine weaving a cloth tube with no seams." The exhibition reveals a collection of over 25 masterworks, most having already achieved antique status. In regard to the exhibition, the gallery wrote, "The Dida considered these skirts a luxurious symbol of high status, a prized possession to be handed down from one generation to the next. Today, it is the same view held by modern collectors."
The textiles in the exhibition were originally woven for special occasions such as births, marriages, funeral ceremonies and festivals. After weaving, the natural yellowish color of the cloth was tie-dyed in shades of brown and ochre. Dyes were obtained from natural sources such as shrubs, tree roots and other forms of vegetation. Joffe also said, "this attractive, difficult to construct cloth is indigenous to the Dida People. Its creation attests to the ingenuity and resourcefulness of tribal peoples everywhere." Today, as manmade textiles and modernization have changed the tribal landscape in rural Africa, this unique art form has for all practical purposes become extinct.
About Primitive: located in downtown Chicago, Primitive presents authentic one-of-a-kind collections of furniture, artifacts, textiles, jewelry, fashion and artwork from around the world. Whether visiting in-person or on the web, you will find a vast colorful mosaic of authentic collections brought from some of the world's hardest to reach places. Everything offered by Primitive is collectible, has a story, history, purpose and design heritage, and comes "from the hand and heart."