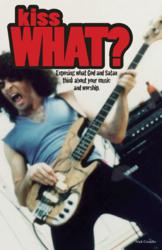 Barry Sinclair, President of Reach-Out Youth Solutions says, No one understands the issue of music and the teenager better than Nick Costello
Canandaigua, New York (PRWEB) March 13, 2013
How do parents and youth leaders equip Christian kids to make smart music listening and life choices? In his new book KISS WHAT?, Nick answers questions like: Is all music evil? What music does God like? What music pleases God? Why obey God? How can a teen resist peer pressure? and much more. The following 3 tips will help answer tough teen questions.
TIP #1: What music content or messages does God call evil? A teen can find the answer in the Bible in Matthew 15:18-20, Galatians 5:19-21 and 2 Timothy 3:1-5. The list includes promoting or advertising sexual immorality, hate, anger, wild parties, drunkenness, drug use, slander, profanity, disobedience to parents and authority and more.
TIP #2: What does God have to say about a teenager's relationship with people or music promoting ungodly values? 1 Thessalonians 5:22 warns, "Avoid every kind of evil." 2 Timothy 3:5 says, "Have nothing to do with them."
Tip #3: What can happen to a teenager who chooses to associate with people or music promoting ungodly values? 1 Corinthians 15:33 claims, "Bad company corrupts good character."
Nick believes when a teenager chooses to allow ungodly, evil, unwholesome, negative messages into their easily influenced heart and mind, through music, entertainments and
friendships, they can become like those they hang around.
Nick has been there, done that! KISS WHAT? challenges teenagers to look at their music listening habits in light of the Bible.
KISS WHAT? is not just another book about music and lyrics.
Respected family ministry Focus On The Family in their book Chart Watch warns, "We must continue to teach youngsters to think critically and Christianly about music. (pg. 21)
Joel Smith former Director For Eastern Region Youth For Christ states, "With his experience, knowledge and abilities, Nick does a tremendous job helping kids see secular music is a dead end street and that the answers to spiritual longing are in Jesus Christ."
KISS WHAT? is a must read for every Christian teenager. Nick's book will also act as an evangelistic tool to help introduce Christ to a teenager who has no faith in God.
View promotional book trailer here.
Nick has spent over 25 years in the secular music industry. Living life in the fast lane of rock and roll nearly destroyed him. In 1988 he surrendered his life to Christ. He now travels North America ministering as an evangelist and youth communicator. He is a graduate of The Billy Graham North American Institute For Emerging Evangelists.