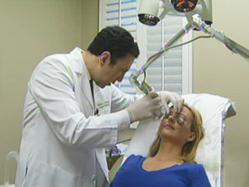 Los Angeles, California (PRWEB) March 10, 2013
According to a February 5, 2013 CBS News article, studies indicate that an anti-oxidant found in red wine may have anti-aging properties. The natural antioxidant resveratrol is the reason many are now considering how red wine could help slow the body's visible signs of the aging process. (Go to goo.gl/uM8FH)
"As the founder of my own Signature Series skin care line, I'm always interested in the latest developments such as resveratrol," says Dr. Simon Ourian, Medical Director of Epione Beverly Hills. "As a physician and a scientist I have to until the scientific evidence is conclusive before I consider adding it to any of our products."
Also found in cocoa, resveratrol has earned a solid reputation among cosmetics and beauty industry companies as an agent for lessening wrinkles and smoothing age lines. Much of the recent research has indicated that resveratrol is not readily absorbed as an oral supplement, but is most effective when applied directly to the skin.
Resveratrol can also serve to supplement health. It has been found to help diabetes, obesity, high cholesterol and reduce the likelihood of blood clotting. When it gets into the blood stream, resveratrol tends to help blood platelets move though the veins, keeping blood vessels dilated, and raising the level of nitric oxide among users.
According to the article, a 2012 study conducted at the University of Pittsburgh found that older mice were able to walk across a high beam without falling down when administered high doses of resveratrol for four weeks. However, the study also concluded that humans would need to drink equivalent of 700 bottles of red wine each day to achieve the same anti-aging effect on their motor skills. Work is underway to develop methods that can deliver the chemical in more concentrated forms.
Still other findings have generated optimism for resveratrol's anti-aging properties. Also noted in the CBS News article, a study published in October 2012 indicates that people who took resveratrol by mouth for more than 60 days showed improvements in the elasticity and moistness of their skin. Some researchers quickly point to the fact that this study was performed for a sustained period of time as a reason for its effectiveness. It worked because the study did not merely engage the short-term effect of drinking a glass of wine.
"The research done to date is exciting," concludes Dr. Ourian. "I hope that it's only a matter of time before a system is developed to effectively deliver resveratrol's properties to the skin and body."
Dr. Ourian has been a pioneer in laser technology and non-invasive aesthetic procedures including Restylane, Juvéderm, Radiesse and Sculptra. These treatments are used for the correction or reversal of a variety of conditions such as acne, acne scars, skin discoloration, wrinkles, stretch marks, varicose veins, cellulite, and others. More information about resveratrol can be found on Epione's website.