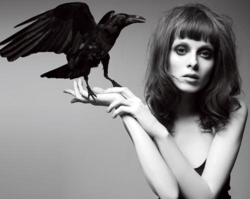 Nashville, TN (PRWEB) March 11, 2013
Karen Elson and LEAGUES will perform at the Symphony Spring Fashion Show, presented by Lexus of Nashville on April 9 at Schermerhorn Symphony Center. Music City's biggest annual runway show, the event will be emceed by CMT personality Allison DeMarcus and will feature Monique Lhuillier's Fall 2013 Collection. All funds raised will go to support the educational and artistic programs of the Nashville Symphony.
Karen Elson opens this wildly popular event with her engaging blend of folk balladry, cabaret and roots music. The British-born Elson has been better known as a model, the face of ad campaigns for Armani, Prada, Chanel and Yves Saint Laurent's Opium, among others. With her pale white skin and shocking red hair, she is an almost otherworldly presence on any given glossy page. While she has assiduously worked as the face of various brands, she has conducted an altogether different life behind the scenes as a singer and songwriter, honing her considerable skills.
Living in Manhattan's East Village, Elson would practice guitar and lay down tunes on a four-track: "I've dairies and diaries of bad songs, but I knew in my heart I could do this. I just had to be patient and learn," she says. "Not force it, but just keep at it." Elson was formerly married to Jack White, whom she'd met on The White Stripes' "Blue Orchid" video shoot. He produced her debut disc, The Ghost Who Walks, and encouraged her to focus on her music. Karen has been a resident of Nashville for several years and is currently at work on her second album.
Arriving back in Nashville after high-energy performances at Austin's SXSW festival, indie-rock band LEAGUES will conclude the fashion show with their infectious tunes and dynamic energy. Consisting of singer Thad Cockrell, guitarist Tyler Burkum and drummer Jeremy Lutito, the group recently released their debut album, You Belong Here, to widespread critical acclaim – Esquire named them one of "15 Music Artists to Watch in 2013" praising, "Because somehow what starts like The Strokes and finishes like The Rapture doesn't sound even a millisecond past its sell-by date."
LEAGUES first generated a buzz when they stepped onto the Ryman Auditorium stage for only their tenth show together as the opening act for The Fray. Opening for Mat Kearny led LEAGUES to "become a band in front of a thousand people," as the members put it. Every moment of their music is made to be enjoyed, and their presence at the Symphony Spring Fashion Show will rock the Schermerhorn!
The Symphony Spring Fashion Show is sponsored by Genesco, Gus Mayer and the Nashville Symphony Orchestra League. Proceeds will assist the Nashville Symphony in reaching more than 250,000 children and adults through free music education and community engagement programs; bringing world-renowned artists such as Joshua Bell, Edgar Meyer and Smokey Robinson to perform for local audiences; and supporting the work of today's leading composers.
For more information about the Symphony Spring Fashion Show or to purchase tickets, please visit NashvilleSymphony.org/fashionshow.
The GRAMMY® Award-winning Nashville Symphony has earned an international reputation for its innovative programming and its commitment to performing, recording and commissioning works by America's leading composers. The Nashville Symphony has released 19 recordings on Naxos, which have received 14 GRAMMY® nominations and seven GRAMMY® Awards, making NSO one of the most active recording orchestras in the country. With more than 140 performances annually, the 85-member orchestra offers a broad range of classical, pops and jazz, and children's concerts, while its extensive education and community engagement programs inspire over 250,000 children and adults each year.