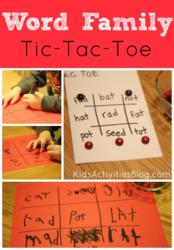 Tic tac toe with word families has kids reading while having lots of fun.
Dallas, Texas (PRWEB) March 11, 2013
Play tic tac toe with word family fields to reinforce developing reading skills in preschoolers. Kids Activities Blog has published several awesome games that sneak in learning while having lots of fun.
Word families are groups of words that have a common feature or pattern. The word family helps the kids to predict recognizable patterns while they try to decipher the words. These words also rhyme and are fun to use while playing games.
Materials needed to play the reading game are a pen, some paper, and something to use to cover the words such as M&Ms. Draw a tic tac toe board and fill in the spaces with word family words that the child can recognize. Then take turns to read out loud while placing the M&Ms on the spaces. The first one who has three in a row wins.
Throughout the game, change the words on the board. The child can even make up his or her own game board. It makes such a simple and fun game that can be played anywhere.
Another fun pre-reading game can be played with colorful letter sticky notes. Let the child create simple words by using the sticky notes. Materials needed are letter sticky notes, a blank wall, note cards with word family endings written on them, such as -at, -am, or -ap, and some painters tape.
Simply place a variety of letter sticky notes on the wall and place one word family ending with it. Let the child choose the letters and practice reading the words he or she has created.
For detailed instructions and to get additional fun pre-reading game ideas, check out Kids Activities Blog this week. Come get inspired to get the kids learning while playing games.
About Kids Activities Blog
Kids Activities Blog is a website created by two moms (who collectively have 9 children), Rachel Miller and Holly Homer from June Cleaver Nirvana. It is their daily goal to inspire parents and teachers to play with kids. This interactive website publishes simple things to do with kids twice a day. Kids Activities Blog is a great tool for moms and teachers to find kid-friendly activities that create memories and sneak learning into the fun.