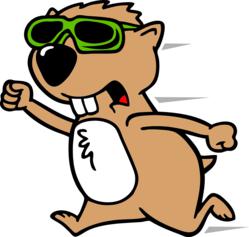 Have no fear, Rodent Guys is here
Pasadena, CA (PRWEB) March 11, 2013
Pasadena homes are plagued with the never ending battle of pocket gophers and gopher control. Gophers are small rodents that burrow in the ground and eat the vegetation. Made famous in the movie Caddy Shack with Bill Murray trying to catch, drown and even blow up the gopher, these rodents are tricky.
Many homeowners try their hand at gopher extermination with ideas they get from the internet, poisons from various hardware stores and drowning them with water. Although sometimes they get lucky with one gopher, they seem to just keep coming.
If left uncontrolled these pesky gophers will eat all the vegetation until nothing is left. The tale tale sign of gophers is the mounds of dirt left atop of the ground. These gopher mounds are from the tunnels they create and is the dug out dirt from below. The gopher mounds also damage the turf by smothering the grass.
Soon the lawn has patches everywhere and dead spots from where the gopher ate the grass. You can look out your window and see the jiggle of a flower or plant. Then slowly watch as it disappears into the ground, never to be seen again.
Fruit trees and other large root vegetation can take some gnawing on the roots and still survive. This chewing from gophers will stunt growth and affect the fruit production of the tree.
The answer is not a simple one. Homeowners are at a big disadvantage since they can not purchase industrial strength poison and trapping requires a learning curve. Some companies sell repellents and sonic beepers but non of which work and should be avoided. Better to spend your hard earned money on proven techniques or hire a professional. If it sounds too good to be true...
Rodent Guys Gopher Exterminators are the best in the business for Southern California including Pasadena. They have years of experience, use the latest in technology and offer both traditional and pet friendly methods.
Rodent Guys Gopher Trapping and Removal can be found on their website by clicking here. They are licensed and specialize in gopher control.
Rodent Guys services most of Los Angeles area including Pasadena, Glendale, La Canada, Tujunga, Altadena, Arcadia, La Verne, Glendora, Claremont, Pomona, Diamond Bar, Brentwood, Beverly Hills, Torrance, Playa Del Rey, Marina Del Rey, Malibu, Studio City, Encino, Sherman Oaks and most surrounding areas.
All of Orange County is serviced for gopher control including Santa Ana, Fountain Valley, Irvine, Yorba Linda, Anaheim, Stanton, Los Alamitos, Walnut, La Habra and Tustin.
Riverside county gopher removal for Riverside, Corona, Eatvale, Moreno Valley, Norco and down to Murrieta are also serviced.
San Bernardino County Gopher Control is covered in Redlands, Highland, Ontairo, Chino, Chino Hills, Upland, Rancho Cucamonga, Alta Loma, Fontana, Rialto and surrounding areas.