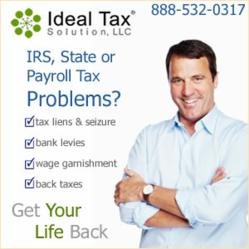 Our clients know they can count on us for valid, up-to-date news on anything related to the IRS.
Costa Mesa, CA (PRWEB) March 12, 2013
Ideal Tax Solution, LLC has long realized the important role professional financial service companies play in providing valuable IRS information to its clients and taxpayers in general. The American Taxpayer Relief Act encompasses several new tax items which reflect changes taking effect in 2013, and in large part for returns which will be filed in 2014.
As part of a comprehensive approach to tax debt resolution and overall tax liability issues, the professional tax specialists at Ideal Tax Solution maintain an extensive information database on existing and newly implemented IRS tax code policies.
The Internal Revenue Service is constantly making tax related announcements related to deductions and exemptions which can directly impact a company or individual's financial stability. Recent adjustments to tax rate schedules and other aspects of the tax code are numerous and can go easily unnoticed.
Some examples of revised inflation adjustments for tax year 2013 announced by the IRS include the following:
> A new tax rate on single Americans with incomes of $400,000 or more. Effective this year, 39.6 is the new percentage rate being levied on upper income single taxpayers, with married taxpayers who exceed $450,000 also being subject to the increased rate.
> The maximum Earned Income Credit is now $6,044 for taxpayers filing jointly, up from $5,891 for tax year 2012.
> The Standard Deduction rises to $6,100 or $12,200 for married couples filing jointly, up from $5,950 and $11,900 respectively for tax year 2012.
> And, the Personal Exemption rises to $3,900, up from $3,800 in 2012.
These items listed above are but a few of the changes being incorporated into the tax code for 2013. Detailed information on these and other revisions to IRS tax guidelines can be found on the IRS website, or by contacting the tax relief specialists at Ideal Tax Solution. Prioritizing tax information and monitoring changes to IRS tax code policy is daily standard procedure for financial service professionals.
"Our clients know they can count on us for valid, up-to-date news on anything related to the IRS or its tax code policies," says Thomas Rodriguez, senior tax analyst at Ideal Tax Solution. "Interpreting that data correctly is what sets us apart."
For U.S. taxpayers interested in finding out more about Ideal Tax Solution and their full range of in-depth and personalized tax preparation services, or for any tax help related issue, visit them online at http://www.idealtaxsolution.com. You can also reach them by phone by dialing 888.393.5154. Good tax tips and additional information can be found on their Facebook page and by following them on Twitter.
About Ideal Tax Solution, LLC – Located in Costa Mesa, California, the company provides a full range of tax preparation and resolution services as well as reassurance to taxpayers nationwide. With more than 55 years of combined experience providing American taxpayers with federal and state income tax solutions, Ideal Tax Solution offers an experienced staff which includes Enrolled Agents, CPAs and Senior Tax Consultants who stand at the ready to help with any tax issues.