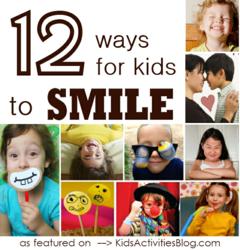 Decorate a sponge to look like a slice of cake, set it out on the counter, and watch who cannot resist taking a nibble from the delicious cake.
Dallas, Texas (PRWEB) March 12, 2013
Occasionally kids have 'sulky' days. Kids Activities Blog has released ways how to smile to help kids snap out of the blues.
The silly activities for kids include making pipe cleaner disguises, creating a family festival, making silly straws, organizing a marshmallow or cotton ball fight, telling knock-knock jokes, or simply having a hug fest.
Among the best pranks for kids are taping a light switch and wonder why the light is not turning on, decorating a sponge to look like a slice of cake, putting it on the kitchen counter, and waiting to see who cannot resist taking a nibble.
Other fun pranks include making meatloaf cupcakes for dinner, digging up the unused baby monitor, hiding the 'adult side' in the kids room, and surprising the kids by saying "someone is watching."
Another wacky prank is putting a raisin in a napkin, pretending to whack a fly with a fly swatter, and putting the hidden raisin in the mouth by pretending it is the fly.
For detailed instructions and to get additional super wacky ideas about how to get the kiddos to smile, check out Kids Activities Blog this week. Come get inspired to get the kids laughing this week.
About Kids Activities Blog
Kids Activities Blog is a website created by two moms (who collectively have 9 children), Rachel Miller and Holly Homer from June Cleaver Nirvana. It is their daily goal to inspire parents and teachers to play with kids. This interactive website publishes simple things to do with kids twice a day. Kids Activities Blog is a great tool for moms and teachers to find kid-friendly activities that create memories and sneak learning into the fun.