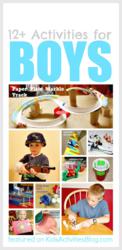 Let the boys carve soap art and let the girls make edible bracelets while having a lovely tea party.
Dallas, Texas (PRWEB) March 14, 2013
Innovative boy activities and silly giggly activities for girls have been researched on the internet and the best of all have been released on Kids Activities Blog. While both boys and girls have lots of games in common, there are some key differences among their favorite games.
Families with multiple boys or girls have compiled their kids favorite activities that keeps them happy and that maintain a peaceful household.
Among the best boy activities are building a cup rocket launcher and a ping pong ball shooter, making all sorts of marble tracks, creating a magnetic duck pond, and building pattern block art.
Older boys love to make soap carving art, setting up scenes to do Lego photography, and candy graphing.
Girls love to play all sorts of giggly games with their friends. Among the girls favorite activities are building a DIY doll house, playing all sorts of dress up games, transforming a cardboard box into a carriage, creating a non-sew tutu, making DIY shaving cream cupcakes, and creating all sorts of glam art.
The favorite glam art activities include making crowns, making edible bracelets, and making DIY toy make-up.
For detailed instructions and to get additional ideas, check out Kids Activities Blog. Come get inspired to get the kiddos playing fun games.
About Kids Activities Blog
Kids Activities Blog is a website created by two moms (who collectively have 9 children), Rachel Miller and Holly Homer from June Cleaver Nirvana. It is their daily goal to inspire parents and teachers to play with kids. This interactive website publishes simple things to do with kids twice a day. Kids Activities Blog is a great tool for moms and teachers to find kid-friendly activities that create memories and sneak learning into the fun.