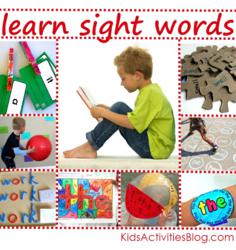 Emerging readers need to build confidence by having fun while they learn how to read.
Dallas, Texas (PRWEB) March 15, 2013
18 games teaching beginning words for kids have been published on Kids Activities Blog. Helping kids learn how to read with phonics will provide them with a foundation to recognize new words. But decoding words the phonics way will sometimes slow down the reading flow and frustrate the emerging reader. That is when sight word games come to the rescue.
Memorizing sight words will help the kids gain confidence when reading. Sight word game ideas include playing twister the phonics way, creating a story by leaving out sight words that the kiddos have to fill in, going bowling for sight words, playing word watchers, and reading words with a fly swatter.
Together with the list of sight word games, links to blogs featuring sight word coloring pages, instant word lists, and sight word Bingo sheets have been published on Kids Activities Blog.
Fun phonics activities include creating a phonics flip-chart, using manipulatives such as Fry boxes, playing jumping games, building a phonics phone out of PVC pipe, having lots of fun with word family games, going on a letter hunt, and singing alphabet songs.
For detailed instructions and to get additional fun ideas, check out Kids Activities Blog this week. Come get inspired to get the kids learning while having lots of fun.
About Kids Activities Blog
Kids Activities Blog is a website created by two moms (who collectively have 9 children), Rachel Miller and Holly Homer from June Cleaver Nirvana. It is their daily goal to inspire parents and teachers to play with kids. This interactive website publishes simple things to do with kids twice a day. Kids Activities Blog is a great tool for moms and teachers to find kid-friendly activities that create memories and sneak learning into the fun.