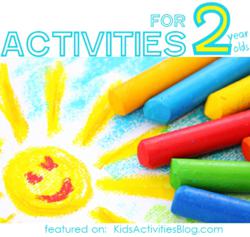 Two year olds are energy balls that love to explore and be busy.
Dallas, Texas (PRWEB) March 16, 2013
Two-year-olds like to be creating and doing. The 40+ list of activities for two-year-olds has been kid-tested and will keep them busy for hours. These activities for two-year-olds are simple, inexpensive, and can be done with items found around the house.
Among the most favorite activities are exploring chemical reactions with baking soda and vinegar, having a jam with musical instruments, playing a color game with a muffin pan and toy balls, and making bracelets from cut up straws.
Silly activities include decorating faces with play dough hair, turning squishy bags into an aquarium, making a birthday party for the child's favorite toy, making a fruit and veggie snack necklace for the child to eat and play, and playing with DIY toddler tubes.
Among the creative activities are using beads and pipecleaners to create sculptures, going on a nature hunt, painting with finger sponges, building a light box, creating glitter slime, making animal tracks in play dough, and tracing body outlines with chalk.
For detailed instructions and to get additional fun activity ideas for two-year-olds, check out Kids Activities Blog this week. Come get inspired to get the kiddos having a blast with super fun activities.
About Kids Activities Blog
Kids Activities Blog is a website created by two moms (who collectively have 9 children), Rachel Miller and Holly Homer from June Cleaver Nirvana. It is their daily goal to inspire parents and teachers to play with kids. This interactive website publishes simple things to do with kids twice a day. Kids Activities Blog is a great tool for moms and teachers to find kid-friendly activities that create memories and sneak learning into the fun.