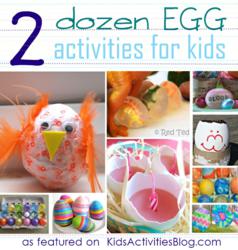 Let the kids go on a special Easter scavenger hunt or go on an Easter egg hunt with flashlights.
Dallas, TX (PRWEB) March 23, 2013
Fed up with the Easter egg hunt fun being over in about 3 minutes? Kids Activities Blog has the answer. A laundry list of 2 dozen Easter egg activities have been released together with over 5 unique Easter egg hunt ideas that will be fun for the whole family.
The unique Easter egg hunt ideas include going on a color hunt by assigning special colors to the little hunters, hiding bunny money in several eggs to go shopping at the Bunny Emporium, or putting on an egg hunt the evening before Easter to let the kiddos find the eggs with flashlights.
Other unique ideas are giving each child a checklist of eggs and items to find or organizing a special scavenger hunt. With a little creativity, put together a set of clues, such as 'hop over to the place that goes brr' and let the child ultimately find the Easter basket as the scavenger hunt prize.
Easter activities include making candles out of empty egg shells, decorating Easter eggs with felt, yarn, paper, and cool things, making marshmallow egg pops and peeps, creating pom-pom chicks, and throwing egg art.
For detailed instructions and to get additional super creative ideas, check out Kids Activities Blog this week. Come get inspired to have a fun filled Easter this year.
About Kids Activities Blog
Kids Activities Blog is a website created by two moms (who collectively have 9 children), Rachel Miller and Holly Homer from June Cleaver Nirvana. It is their daily goal to inspire parents and teachers to play with kids. This interactive website publishes simple things to do with kids twice a day. Kids Activities Blog is a great tool for moms and teachers to find kid-friendly activities that create memories and sneak learning into the fun.