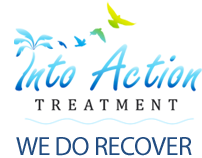 Boynton Beach, Florida (PRWEB) March 09, 2013
Into Action Treatment is celebrating family weekend at their South Florida treatment center this weekend. It is a weekend full of lots of activities for the clients and their families, who are in town visiting their loved ones in treatment.
The family weekend schedule has many meetings planned and lots of opportunities for families and loved ones to come together and celebrate. Family weekend is an integral part of Into Action Treatment's program, because if the family is not educated about the addiction, then the addict in the family will have a hard time adjusting to a life of sobriety when they return home.
"Our goal at Into Action Treatment is to help all of our clients fully recover from the disease of drug and alcohol addiction and to return them to their families if that is what they want to do," said Andrey Rossin when asked about the importance of family weekend. Rossin is the founder and CEO of the 1 year old drug treatment facility and is an inspiring person to be around. An interesting fact about Rossin and Into Action Treatment is that they offer long term drug rehab stays, much longer than the industry standard 28 days. "Our minimum stay is 45 days, but our average stay is 97 days. This allows our clients to go through at least 1 family weekend and help the family system change," said Rossin.
This weekend, there are many meetings for both the clients and the families. The meetings include an Al-Anon meeting for the family members which helps them understand addiction and setting boundaries, a Big Book meeting based on the basic text of Alcoholics Anonymous, and also an alumni meeting where graduates of the center come back in and speak.
All in all, the family weekend at Into Action Treatment detox is a time for families to come together and reflect on the new life that their loved ones are setting out on. The family weekend will conclude with a beach barbecue and a celebration of the miraculous changes taking place at the center.