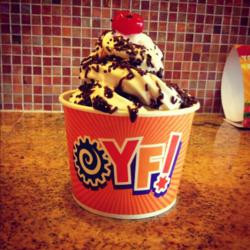 The freshest, creamiest, best-tasting froyo in the United States, period.
Woolwich Township, NJ (PRWEB) March 11, 2013
YoGo Factory, a national self-serve frozen yogurt franchise, continues expansion into Gloucester County, NJ, announcing their grand opening in Woolwich Township, Gloucester County, NJ. Woolwich, a franchised store is located at 120 Center Square Road, Woolwich Township, NJ, and will service residence of Swedesboro, Woolwich, Mullica Hill, Paulsboro, other surrounding towns. The store is due to open Friday, March 22nd, 2013. YoGo Factory is located in the same plaza and adjacent to Hand and Stone Massage, Primo Hoagies, Green Tea bar & restaurant. Over 5,000 YoGo Factory shirts are due to be given away and their patrons are anxiously awaiting their new favorite dessert shop with the store projecting well over 1,000 customers on it's first day of business. YoGo Factory has also announced plans for another wave of 15+ stores throughout eastern Pennsylvania. By 2014, company projections expect YoGo Factory to have over 100 frozen yogurt franchises, and 30 company owned yogurt stores throughout the eastern and south eastern United States and additional stores abroad.
The YoGo Factory frozen yogurt company mission is to offer the customer a total frozen yogurt experience. Most stores are much larger than your typical frozen yogurt shop, and offer an inviting feel, filled with multiple family booths, a huge, 50' granite yogurt bar, and both free WI-FI and wall mounted iPads which feature Facebook, Twitter, Foursquare and more.
The YoGo Factory froyo franchise main focus is not just the best tasting, creamiest froyo in the nation, but also is to provide each and every customer a total frozen yogurt experience rather than a "get in, get out" type of experience. The company also prides itself in offering the largest amount of fresh fruit, syrups and toppings, and frozen yogurt flavors in the country, boasting well over 100 toppings and over 75 flavors of frozen yogurt, most non-fat. Franchise, licensing and master franchise opportunities are available through the company website, at http://www.YoGoFactory.com.