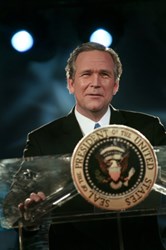 "A feeling of quality, stability and family has been built around the Barter Rewards brand." Tate Carson related
Orlando, Florida (PRWEB) March 10, 2013
Barter Rewards, an international barter company released a new promotional video using the new Deep Rich Data SEO method. The video "21st Centenary Trade Exchange" features the greatest George Bush impersonator in the world, John C. Morgan, who takes us back in history to explain the barter system.
Tate Carson of Barter Rewards commented "We have used Tom Reich and his system of social media marketing for about 3 months now but this is the first time with a video" Deep Rich Data or "DRD" is a method of SEO and link building that brings targeted viewers to a web page, blog or video.
Barter Rewards has a very modern way of presenting an old concept. "Barter has been around since history began, since before money, but in the last 20 or so years has been presented in very boring ways." Reich continued "Barter Reward's Tate Carson is having fun with his presentation of this service and its explosive growth attests for the success of this approach."
Thomas R. Reich developed Deep Rich Data to get increased views to websites, and has achieved spectacular results in the early stages of its development. "Barter Rewards has a great website, really well managed and updated frequently, this makes Deep Rich Data work to its maximum potential" Reich said "The Barter Rewards Pinterest site works well with the company's Twitter site to bring viewers straight to the website. Best are the innovative pages I link to on the Barter Rewards website and the unique product presentations made to look exciting and new!"
"A feeling of quality, stability and family has been built around the Barter Rewards brand." Tate Carson related "we try to give people the impression of home, and we really do make it far simpler than barter has been in many years." He continued "We care about our members and they care about each other, I think that is the difference that brings Barter Rewards success"
Barter Rewards will continue to pioneer new online marketing methods. Deep Rich Data is only the beginning; Tat Carson plans a whole series of unique videos in the future. If the success Barter Rewards has had so far is any indication, many more surprises are coming. Check out the new George W Bush parody video now on YouTube.
Barter Rewards markets each business to other Barter Rewards member businesses in the online member directory, weekly email and through established Trade Brokers. A member business gets incremental sales from buyers looking for barter opportunities within the Barter Rewards network. For more information on Barter Rewards call 855-652-2783 or email info(at)barterrewards(dot)com.