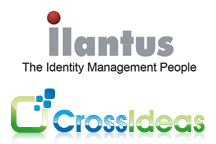 SaaS access governance, on-demand, for cost-effective rapid deployment when the organization has the need and the best access governance solution for SAP customers.
ROME, Italy (PRWEB) March 11, 2013
SCHAUMBURG, USA | ILANTUS Technologies, a leader in the convergence of enterprise and cloud in the Identity Access Management domain, and CrossIdeas, Inc., an industry leader in Identity Access Governance, today announced a partnership to bring a true cloud access governance solution to a wider market in North America. Featuring true cloud-based access certification, roles and provisioning, this partnership enables companies of all sizes to embrace access governance, benefit from strong SAP integration and recognize savings with an on-demand model.
ILANTUS is striving to bring access governance within the financial reach of small and medium sized organizations through the CrossIdeas partnership, as currently offered solutions are well outside their reach. ILANTUS makes this possible through a unique "On Demand" model that is affordable to all.
"Enterprises of all size need an affordable, accessible access governance solution to ensure identity and access security," said Binod Singh, President and CEO of ILANTUS. "This partnership delivers SaaS access governance, on-demand, for rapid deployment when the organization has the need. It also offers the best solution for SAP customers."
The partnership delivers true cloud access governance to the market. The CrossIdeas access governance products are multi-tenanted for reduced costs and secure delivery, reflecting full commitment to the cloud. Combined with the ILANTUS Express solutions, the CrossIdeas products add to the ILANTUS commitment to provide organizations with the choice to select solutions and platforms to meet their business requirements.
"The combination of our forces will bring to organizations a new affordable Access Governance model while reducing costs and project risks" said Alberto Ocello, President and CEO at CrossIdeas. "ILANTUS' leading position will give CrossIdeas the possibility to rapidly expand in the North American market."
ILANTUS' commitment to solutions for the full IAM lifecycle will take advantage of CrossIdeas' access governance for the SAP market. Since the native SAP authorization model is so complex, true access governance has been difficult. CrossIdeas has developed a module to deliver access risk control, SOD, and compliance for SAP, which will allow ILANTUS to deliver access governance to a more expansive market, especially SAP-based organizations.
The ILANTUS and CrossIdeas strategic partnership brings true cloud-based access governance to North America, enabling companies of all sizes to embrace identity and access security, benefit from strong SAP integration and recognize savings with an on-demand model.
About ILANTUS Technologies
ILANTUS Technologies (http://www.ilantus.com) is a leading product and solution provider in identity management, access management, access governance, and information security. ILANTUS delivers innovative identity security products and solutions rapidly and affordably in cloud, hosted and enterprise platforms, leveraging best of breed technologies and their 12 years of IAM software integration experience. ILANTUS is the implementation partner of choice, provides hosted/ managed services and 24/7 support for companies deploying IAM software across the globe. ILANTUS responds to critical challenges in a complex market with innovative, simple, fast-to-implement Identity Management, Access Governance, Federation, and Password Management solutions.
About CrossIdeas
CrossIdeas enables organizations to achieve their Compliance, Audit and Access Risk Management objectives. Established in 2001 and previously known as Engiweb Security, CrossIdeas is a leading player of Identity and Access Governance Solutions. Headquartered in Rome, Italy, CrossIdeas serves over 90 customers internationally throughout the banking, manufacturing, energy and government sectors. CrossIdeas' largest customers are multinational businesses, managing millions of entitlements in heterogeneous enterprise application estates. For more information visit http://www.crossideas.com or email info(at)crossideas(dot)com