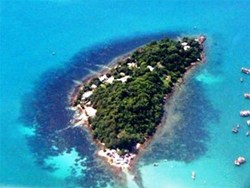 Vietsmile Travel is offering the package of Phu Quoc Beach in 4 days and 3 nights at the price of $195 - $ 235
(PRWEB) March 10, 2013
To attract more and more international tourists to Vietnam, Vietsmile Travel – the leading travel agent in Vietnam - has launched big promotions for tours in Vietnam. Phu Quoc Island is known as one of the most visited place; therefore, Vietsmile Travel focuses on tours in Phu Quoc.
Accordingly, the discount for each package can be up to 40%. Thanks to the wonderful nature, well-equipped infrastructure, and great deals, tours in Phu Quoc Island is becoming hotter this year.
Phu Quoc is known as Pearl Island, is the largest island of Vietnam as well as the largest island of 22 islands in the Gulf of Thailand. The island is a part of Phu Quoc island district, which is located in Kien Giang province. With the total area of 589.23 km ² (according to the statistic in 2005), the island has approximate area of Singapore. Duong Dong Town, located in the northwest, is the capital of the island district. It takes about 120 km from Phu Quoc to Rach Gia town and 45 km from Ha Tien town to Phu Quoc. In the past, Kien Giang is recognized as the world's UNESCO World Biosphere Reserve.
Being one of the most attractive and interesting destinations in Vietnam, Phu Quoc Island is now a popular name to millions of tourists worldwide. Surrounded by a mountainous ridge including 99 peaks, it seems to float in the Gulf Thailand. Over the past years, Phu Quoc Island has been a splendid gateway, made up of enchanting white sandy beaches and green coconut lines. There tourists can see the simple and special lifestyle of fishing villages. Thanks to untouched landscape, stunning beaches, fresh atmosphere, colorful coral offshore, rich wildlife species, and various underwater activities such as scuba diving, the island is seen as a paradise on earth to many tourists who want to find a place to relax and escape from the bustling city life.
As far as many people known, Phu Quoc Island is famous for its large forests, which are the home to valuable plants and animals. Owning many habors such as An Thoi and Hon Thom, it also well-known for Phu Quoc prison – one of the most visited place for tourists.
Once upon coming here, tourists cannot miss the chance to enjoy traditional and local specialty, namely fish sauce and black pepper. Many people often bring them home as a gift after the holiday since they are really celebrated and unique. Besides, tourists spending time on Phu Quoc can experience the local market that has the typical characteristic of Vietnamese culture. Within the tour, tourists can enjoy a great lunch or dinner at one of the most famous restaurants in Phu Quoc. Later on, they can stay overnight at one of the best resorts here.
It is noticeable that Phu Quoc is an ideal destination for dog lovers since there are many pretty dogs raised on the island. In the morning, tourists can walk along the coastline and play with them.
Furthermore, much of this island's nature is still preserved. 70% of the island is kept as a national park. This is the best time for tourists visiting this beautiful island as the sea is calm, the sunshine is light, and nature is fresh and peaceful. "The island of Phu Quoc is still natural and untouched like Phuket 20 years ago", say Thailand tourists.
At present, a big golf court and a casino have been built to better serve the need of visitors. If tourists love the untouched nature and peaceful space, they should book tours in Phu Quoc Island this spring. Thanks to the own airport linking to Tan Son Nhat airport in Ho Chi Minh City, It is very convenient for people to reach the island the island. At present, Vietsmile Travel is offering the package of Phu Quoc Beach in 4 days and 3 nights at the price of $195 - $ 235. Book now to have chance discover Pearl Island with the cheap price.