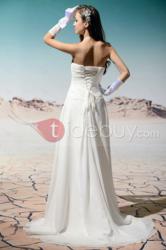 TideBuy.com has launched a wedding dress promotion.
(PRWEB) March 15, 2013
Recently, TideBuy.com has proudly released 26 new wedding dresses to its wedding dresses 2013 assortment. Edmond Liu, CEO of TideBuy.com, says, TideBuy.com has also launched a wedding dress promotion to expand its market share.
The 26 new wedding dresses include many hot styles among the ladies. No matter attractive sleeveless dresses, or V-neck beading dresses, women can discover their favorite dresses to display their ideal figures. Moreover, all the wedding dresses from TideBuy.com come with these characteristics: rich choices, fine tailoring, meticulous production and premium customer service.
TideBuy.com offers thousands of wedding dresses in various colors and designs, and consumers can discover their favorite dresses easily on the website of TideBuy.com. The company has vowed to spare no energy to supply an excellent variety of dresses for clients as well as rapid delivery.
Edmond Liu said, "Most wedding dresses can be found with terrific discounts now, up to 70% off, , and the promotion would last 10 days only, from Mar. 14 to Mar. 24, 2013. We hope to show our appreciation to our loyal clients through such a promotion."
About TideBuy.com
TideBuy.com is providing premium quality and stylish collections of wedding dresses along with other special-occasion dresses at acceptable low prices, and its dresses include cheap prom dresses, wedding dresses, evening dresses, and much more. They have vowed to provide their own wedding dresses without sacrificing the high-quality materials and rapid delivery.
More information can be found at:
http://www.tidebuy.com/?utm_source=content&utm_medium=news&utm_campaign=index