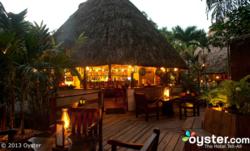 When Prince Harry visited the area last year, he stayed at the rustic luxe Lodge at Chaa Creek.
(PRWEB) March 10, 2013
The Travel Channel's recent feature on the Cayo District of Western Belize highlights an emerging trend in travel to the increasingly popular Caribbean destination, according to one of the area's most visited eco resorts.
Bryony Fleming Bradley, The Lodge at Chaa Creek's assistant general manager, said the March 8 feature article, "Spotlight on Belize", was correct in pointing out that the Cayo District is now the second most visited area in Belize.
"The increasing popularity of Western Belize and the Cayo District has been a real topic of discussion lately among local tourism industry professionals, so it was very timely to see this emerging trend appear on the Travel Channel," Ms Fleming Bradley said. "Belize is so justly famous for snorkelling and scuba diving along our Caribbean Sea coast and the Belize Barrier Reef that our many inland attractions are sometimes overlooked.
"However, more and more people are discovering how much there is to do in Belize's vibrant west, with its huge tracts of pristine rainforest, meandering rivers, exotic wildlife and the abundance of Maya temples and ancient cities, and the word is spreading," Ms Fleming Bradley said.
The Travel Channel is a popular US- based satellite and cable television channel specialising in travel news and information, documentaries and reality shows, reaching some 96 million US homes and simulcast in its HD format to almost 37 million viewers worldwide. Ms Fleming Bradley said the channel's mention of the Cayo District, with an emphasis on Chaa Creek, is one more indication that western Belize is coming into its own as a travel destination.
The March 8 feature states that the Cayo District is "home to beautiful countryside, lush rainforests, and perhaps the most impressive Mayan ruins in the country. When Prince Harry visited the area last year, he stayed at the rustic luxe Lodge at Chaa Creek. This eco-lodge sits on a private rainforest reserve, and myriad tours and outdoor activities are offered through the hotel."
Ms Fleming Bradley confirmed that Britain's Prince Harry and other VIPs have been guests of Chaa Creek's. "We always protect out guests' privacy, but yes, it's public knowledge that Prince Harry did stay with us last year and said how much he enjoyed the visit. We attract people who want to get off the beaten track and be in a secure setting surrounded by abundant, pristine wilderness," she said.
The Lodge at Chaa Creek sits within its own 365 acre private rainforest reserve and features a range of accommodation, from casual-luxury thatch roof cottage rooms to tree-top and Jacuzzi suites surrounded by tropical gardens. The eco resort features a fine dining restaurant, Jungle Lounge, Butterfly farm, professional Hilltop Spa, pool and a wide range of amenities and activities including jungle horseback and mountain bike riding, canoeing, and guided nature walks and birding.
Chaa Creek is also known for its signature all-inclusive Belize vacation packages catering a variety of interests, including Maya temple exploration and surf and turf Caribbean options through its "Rainforest to Reef" partners.
Ms Fleming Bradley said that Chaa Creek had been adding new tours and excursions to its impressive list of activities this year. "We've been here for over 30 years, but we like to stay fresh and continually create new offerings for our guests, many of whom are repeat visitors. Besides, we're always discovering something new in western Belize ourselves," she said, "And that's what makes this area so special."