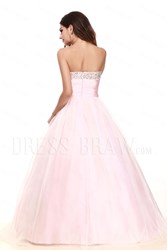 DressBraw is offering hefty discount rates on its line of women's dresses, up to 70%.
(PRWEB) March 16, 2013
DressBraw, a well-known brand in women special occasion dresses, has recently released 128 new items to its designer prom dresses 2013 collection. A spokesman of this organization, said that they would launch new designs weekly to enrich their product line.
The recently released 128 designer prom dresses come in various colors and styles. The design team of DressBraw has embedded the most recent trends within this collection of cheap designer prom dresses, so that ladies can find their favorite prom dresses easily to display their ideal figures: No matter attractive sleeveless prom dresses, or elegant A-line floor-length prom dresses.
The spokesman stated, "DressBraw focuses on sexy and sophisticated prom fashion with an emphasis on the dresses. It is necessary to celebrate and accentuate the sensuality and beauty of the female figure in lieu of covering it up with piles of fabric."
Furthermore, DressBraw is offering hefty discount rates on its line of women's dresses, which contain elegant evening dresses, regular wedding ceremony dresses, classy bridesmaid dresses, lovely cocktail dresses, and a lot far more. Moreover, custom dresses are also obtainable at DressBraw.com.
About DressBraw.com
Based in China, DressBraw is a leading online supplier of wedding dresses and special occasion dresses for women. They aim to provide first-class apparels at the lowest possible prices. Their strict quality control, low prices and warm-hearted customer services have made them one of the leading wedding dresses brands worldwide.
More information can be found at:
http://www.dressbraw.com/?utm_source=content&utm_medium=news&utm_campaign=index
Office Hours: Monday to Friday from 9:00 a.m. to 6:00 p.m. (GMT +08:00)