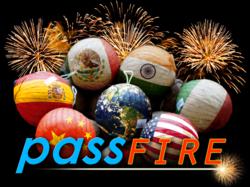 Fireworks have a powerful, almost magical attraction to people.
Ithaca, New York (PRWEB) March 11, 2013
Two award-winning independent filmmakers have raised more than $57,000 to fund their new movie "Passfire," which looks at the cultural influences of fireworks worldwide. "Passfire" tells the story of the world's most amazing fireworks, the passionate people who make them and the cultures behind them and is sure to explode on the big screen.
The Veverka Bros.' successful fundraising campaign on Kickstarter.com garnered the support of more than 500 individuals who donated a total of $57,606 - 151 percent of the initial $38,000 goal. The funds will allow filmmakers Jesse Veverka and Jeremy Veverka to tell the story of fireworks in China, Japan, Indonesia, India, Thailand, Malta, Vietnam, Mexico, the USA, Spain, Italy and more.
"Passfire" is pleased to welcome America's preeminent pyrotechnics organization, the American Pyrotechnics Association (APA), as an exclusive Diamond sponsor of the film. As the nation's oldest and most recognized fireworks trade group, the APA represents the entire fireworks industry – professional display, consumer and proximate pyrotechnics manufacturers, importers and distributors, domestic and foreign, companies large and small, who share a dedication to the APA's principle goals of safety and compliance. APA members invest in the future of fireworks and remain dedicated to "preserving and promoting an American tradition."
"Fireworks and the cultural traditions behind their use vary from country to country across the world and from generation to generation. The artistry and craft of this unique trade is built on a foundation of passion. The APA is proud to help bring a glimpse of these traditions and celebrations from around the world to life for others to understand and appreciate," said Julie L. Heckman, Executive Director, American Pyrotechnics Association.
The United Kingdom's MLE Pyrotechnics, a producer of world-class pyrotechnics shows that have been seen by hundreds of thousands of people, has also joined "Passfire" at the Gold sponsorship level.
"MLE are very pleased to sponsor 'Passfire.' It is a concept that everyone here is very passionate about," MLE's Mat Lawrence said. "We find fireworks and their traditions around the world very interesting and to capture this in a film will be of huge value to our industry across the globe. It is an honor to be associated with the production."
Also joining "Passfire" as a sponsor is St. Paul, Minnesota-based Hollywood Pyrotechnics, a leading importer of fireworks, including exceptional Chinese, Japanese, Italian and Spanish shells.
Jesse and Jeremy are also pleased to receive the sponsorship of Martinez Specialties and Proximity Pyrotechnics, both located in the Ithaca, N.Y. area where the filmmakers grew up. Firework Crazy from the United Kingdom and Py in the Sky "The Fireworks Guy," hailing from Kansas City, Missouri, have also signed on to offer support.
In addition to its new sponsors, "Passfire" is proud to continue its relationship with the National Fireworks Association and Skylighter.com, who have backed the film from the start.
NFA president John Werner explained, "When I presented the film's concept to the Board I was delighted how quickly the members saw the real value in the project and agreed to contribute to the effort."
"Fireworks have a powerful, almost magical attraction to people," Harry Gilliam, president of Skylighter.com said. "I'm tickled pink that such an accomplished, professional film company is producing a documentary on how and why fireworks affect people so universally."
"The amount of support we received from our Kickstarter donors, both at the individual and organizational levels, was overwhelming," cinematographer Jeremy said. "The level of excitement from the community shows that this film will be a success. I really want to thank every donor."
Jesse and Jeremy have spent more than eight months planning the production, which aims to document the rich, yet rapidly changing fireworks traditions that exist around the world and make them accessible to both fireworks enthusiasts as well as the broader public.
The Veverka Bros. aim to record the biggest blasts, along with traditional manufacturing methods and cultural affairs concerning fireworks.
"Passfire" has already taken an exclusive look at the legendary 36-inch san-jaku shell in Japan, which takes six months to craft, weighs about 400 pounds and costs almost as much as a new car.
Highlights of the production going forward will include scenes of jumbo-size Thai Girandolas helicoptoring into the sky, celebrations at a fireworks festival in Tultepec, Mexico, honoring the patron saint of pyrotechnics, San Juan de Dios, and a glimpse of Malta, where Catholic parishes compete with one another for the best fireworks shows.
"There've been some interesting stories about the way fireworks are made, their history, or how shows are put together, but there has never been a film of this scale that looks at the way people show their love for fireworks around the globe," said Jesse.
Despite the global perspective, Jesse and Jeremy realize that a part of fireworks culture lies in their own backyard - Ithaca, N.Y. They are documenting the work of Tom Dimock, a licensed pyrotechnician in the Ithaca area. Dimock co-organizes a special fireworks show every Labor Day, and has won several awards from the Pyrotechnics Guild International.
"We are really excited to be working with Tom as well as our Ithaca area sponsors Martinez Specialties and Proximity Pyrotechnics - it's wonderful to find a local connection to such a global topic," says Jesse.
The brothers will also be checking out fireworks around American Independence Day (July 4), where the sky of the entire nation lights up with brightly colored blasts and the largest shows of the year.
This is the largest project that the Veverka Brothers have taken on in their careers so far. Previously, they created the feature-length documentary "China: Rebirth of an Empire," which screened at 24 film festivals internationally and took home six awards, including Best Documentary. Their documentary short "Malana: Globalization of a Himalayan Village" and narrative short "Bus to Somewhere" continue to screen at festivals worldwide.