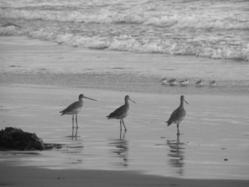 Businesses in almost any industry can qualify for a BP Claim
Clearwater, FL (PRWEB) March 12, 2013
Businesses throughout the greater Tampa-Bay Area have an opportunity to recover from economic losses in past years by making a claim for BP settlement funds. The recovery opportunity can be significant – the average settlement offer for a "business economic loss" claim is currently over $230,000. But many eligible businesses will not make a claim before the April, 2014 deadline because they are not aware that they qualify.
"There are $20 billion dollars set aside to compensate those affected by the spill. The greatest challenge right now is awareness," says Michael Ziegler, an attorney representing BP claimants (http://www.ClearwaterBPClaims.com). "So many business owners assume the claim process is limited to businesses who were directly involved in tourism or fishing. That simply is not true. Businesses in almost any industry can qualify for a BP Claim with a few limited exceptions."
Businesses who do not qualify for a claim include [the oil and gas industry, gaming, banking, insurance, funds, defense contractors, and developers.
"I have a lot of clients who tell me that they do not feel like they deserve to accept the BP funds under the Settlement. I have spent the past five years listened to countless stories of how people and businesses throughout Clearwater, St. Petersburg, and Tampa have financially suffered. I don't know what portion of the Bay's economic challenges was caused by the oil spill, but I do know that we were affected. The system that the Court set in place is intended to compensate for both the direct and indirect losses caused by the spill."
Most of the businesses located in the greater Tampa Bay area, including Clearwater and St. Petersburg, are in a location that qualifies them to make a BP Claim. The more difficult question to answer is whether a business meets the pattern of financial loss required to file a claim.
"Businesses should not assume they won't qualify for a claim, even if their total revenues went up in 2010. A business can qualify for a claim if a period of only a few months in 2010 was down from years prior, even if the net for the year was up."
"In my mind, every business that had its doors open in 2010 should at least see if they qualify." Ziegler's firm does not charge for a consultation, and they do not charge their clients any attorney's fees or cost unless they recover on a claim.
On April 20, 2010, the Deepwater Horizon oil rig exploded, claiming 11 lives and leaving oil pouring out of a broken pipeline at a rate of thousands of gallons a day. It took almost three months before the pipeline could be capped. In the interim, the Gulf of Mexico was forever changed by approximately 4.6 million gallons of oil and by the unknown properties of the dispersants used to dilute the oil.
About Michael A. Ziegler, Esq.
Attorney Michael "Mike" Ziegler is the managing attorney for the Law Office of Michael A. Ziegler, P.L., a Clearwater, Florida-based law firm focusing on BP claims and debt relief. He is an active member in the Florida Bar, the Clearwater Bar Association, the Central Pinellas Chamber of Commerce, and the Florida Bar Consumer Protection Law Committee. For more information, please visit http://www.ZieglerLawOffice.com or http://www.ClearwaterBPClaims.com.