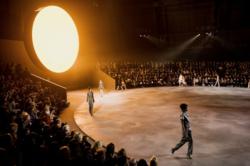 An innovative cement product, called Arapido, and the artistic use of pigmented sand enabled my team of artisans to fashion the runway into a moonscape with an urban aesthetic.
New York, NY (PRWEB) March 11, 2013
New York City-based Hudson Concrete made its New York Fashion Week (NYFW) debut at the Marc Jacobs Fashion Show. Creative Engineering, a New York City-based design firm, commissioned Hudson Concrete Polishing to develop the catwalk just five days before the Marc Jacobs Fashion Show, which closed out NYFW.
Hudson Concrete has been the visionary firm behind custom concrete floors for Diane von Furstenberg, Calvin Klein, Sean John and other international brands for nearly a decade, so the firm is no stranger to the world of fashion and the retail experience. "The way that the floor is designed has a tremendous impact on the overall perception of the space and brand," explains Huneck. "Lighting, intensity of color, and tonal and textural differences guide our technical and creative processes, and we view the end result as being critically important to our success, as well as our clients' success."
Hudson Concrete used years of experience, and creative instinct, to create the Marc Jacobs runway. Concrete was applied using an industrial sprayer. Then custom-pigmented sand was artfully broadcast onto the cement. A strategically placed 'sun' cast golden-brown hues over the moon-shaped runway, which measured 5,000 square feet, drenching the armory in sepia tones. The process was labor-intensive requiring artistic vision to create the dramatic effect which dazzled fashion show guests.
It all began with a 12-square-inch sample, which was approved by celebrated set designer Stefan Beckman. Hudson Concrete Polishing successfully replicated the textural and color effects found in the small sample, onto a large surface area, ultimately creating the stage that Beckman was looking for to showcase the Marc Jacobs line. "Creating designer concrete flooring is equal parts art and science," Huneck reflects. "Each project begins with textbook consideration of the visuals and material elements, but at some point a true concrete artisan will rely on creative instinct to make critical decisions."
About Hudson Concrete Polishing
Hudson Concrete Polishing specializes in the installation of designer concrete floors for many industries, including fashion and a wide range of retail spaces. Hudson Concrete has designed and finished millions of square feet of flooring nationwide and its unique flooring service is always in high demand.
Photos were taken by Shawn Brackbill.
Contact Hudson Concrete Polishing
(718) 482-0850
PaulH(at)HudsonConcrete(dot)com
http://www.HudsonConcretePolishing.com
47-51 33rd Street
Long Island City, NY 11101