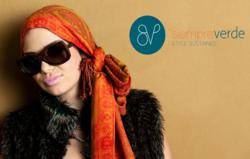 We were challenged to incorporate style, technology and a message - fashion can both feel and do good.
Marina del Rey, CA (PRWEB) March 12, 2013
In perfect time for spring, Siempre Verde launches a new line of sunglasses and prescription eyewear that links environmental awareness and passion for design. With its direct Spanish translation to "forever green", Siempre Verde aims to rally support for worldwide environmental efforts.
"It came to us a natural idea to combine our love of nature with our products by offering sustainability in our merchandise and building eco-friendly awareness into our marketing," Rose Ann said. Prior to the company's official founding in 2012, the couple researched other eyewear companies for over a year. Much to their surprise, they found that there were only two major eyewear companies, Luxottica and Safilo, which produce all types of eyewear, yet both use materials that are not natural.
"As we investigated the market we found that there was no way a pair of plastic frames should cost $500," Rose Ann said. "We were challenged to find a better product because eyewear is the one industry where there has been little to no innovation in decades." With the goal of providing eco-conscious eyewear and using only natural materials, Siempre Verde was challenged to incorporate style with technology and a message- "fashion can both feel and do good."
As opposed to plastic or petroleum frames, Siempre Verde uses only bamboo and sustainable woods like ebony, birch, and zebra wood. They are the first to offer single vision prescription lenses, transition lenses, tinted lenses in a wood eyewear frame delivered to your door. And for the sun lovers, premium quality polarized lenses are standard, not an upgrade.
With style shifting towards eco-friendliness, Siempre Verde is part of a progressive, widespread effort to transform not only the eyewear industry, but all other types of apparel. "As we become more aware of our environment and our impact on it, we want to feel good about the things we purchase. More and more fashion and accessories are moving in this direction so we no longer need to compromise style to do something good."
Staying true to its motto "Style Sustained," Siempre Verde releases products that are intended to embody the unique spirit of Southern California's fashion scene. Those frames entitled Ocean, Brentwood, Rodeo and Venice are designed to represent their respective Los Angeles neighborhoods.
Siempre Verde's "Get some, give some" program is a perfect way to address our environmental concerns and reforestation is the most relevant and attainable goal. "Since we use wooden frames, we wanted to do something to replenish the materials that we were using from nature." Through its giving program and in partnership with 1% for The Planet, Siempre Verde will plant a tree through American Forest with every wood spectacle purchase.
Siempre Verde's mission is to provide style-conscious urban professionals with naturally inspired accessories that can also raise their environmental awareness. Its unique value propositions include free shipping, prescription wood eyeglasses delivered to the customer's door, a virtual try-on program that allows customers to try-on a pair or two in the comfort of their home, and a high level of personal customer service.
Urban dweller and eco-conscious fashion consumers looking forward to the upcoming season can learn more about Siempre Verde's product line by visiting http://www.ShopSiempre.com.