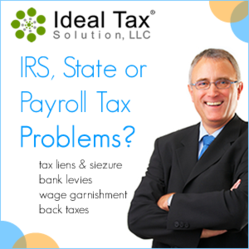 Money spent by the self-employed on deductible items does not add profit to their bottom line.
Costa Mesa, CA (PRWEB) March 13, 2013
Ideal Tax Solution, LLC recognizes the important tax code differences existing between corporations and self-employed taxpayers. Comparing the two tax policies can be eye opening with respect to allowable deductions and fundamental differences in their structural formulation. Frustrated self-employed taxpayers and tax help specialists are calling for tax reform in an effort to revise - or remove - the current code which refers to the self-employed as "two persons in one." Nancy Humphreys of the Huffington Post thinks that is "ridiculous!"
Self-employment deductions do not work the same as deductions allowed for employers. The tax liability specialists at Ideal Tax Solution are quick to point out that self-employed taxpayers in good standing do not receive the "economics of scale" from the deductions they utilize. Rather, money spent by the self-employed on deductible items does not add profit to their bottom line. Quite the opposite is true…they actually lose money on deductions.
Conversely, in a corporate environment 'efficiencies of division' and 'labor specialization' create increased revenue for large companies. Self-employed taxpayers receive no tax breaks for performing the same duties and accrue no extra revenue for doing so. The reality is they actually lose money in the tax process. Addressing these and other issues related to optimizing self-employment tax responsibilities is one area of expertise in which Ideal Tax Solution can bring extensive experience to the IRS negotiating table.
"When a client comes to us for professional tax resolution, we are absolutely required to have full knowledge of existing IRS policies and procedures, whether for an individual, company or self-employed taxpayer," says Sam Price, a senior tax analyst at Ideal Tax Solution. "Interacting with the IRS on a client's behalf is a serious responsibility we do not take lightly."
For tax purposes, the US government defines self-employed as being more related to employees than business owners. By IRS definition, the self-employed must play an "active role" in the operation of their business. One hundred percent of self-employed labor costs are taxed as personal income. This is a major area of discrepancy, which Ideal Tax Solution continues to address in its efforts to help self-employed entrepreneurs get a fair shake with the Internal Revenue Service.
For U.S. taxpayers interested in finding out more about Ideal Tax Solution and their full range of in-depth and personalized tax preparation services, or for any tax help related issue, visit them online at http://www.idealtaxsolution.com. You can also reach them by phone by dialing 888.393.5154. Good tax tips and additional information can be found on their Facebook page and by following them on Twitter.
About Ideal Tax Solution, LLC – Located in Costa Mesa, California, the company provides a full range of tax preparation and resolution services as well as reassurance to taxpayers nationwide. With more than 55 years of combined experience providing American taxpayers with federal and state income tax solutions, Ideal Tax Solution offers an experienced staff which includes Enrolled Agents, CPAs and Senior Tax Consultants who stand at the ready to help with any tax issues.