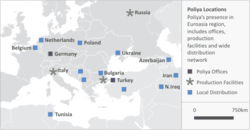 This announcement marks another key milestone in Poliya's sustainable growth following the acquisition of Cam Elyaf Resins in 2011 as well as expanded manufacturing operations in Italy in 2012
Istanbul, Turkey (PRWEB) March 12, 2013
Today, according to strategic expansion plans, Poliya announced it is starting production in Russia. Set to begin in May 2013, Poliya branded products will be manufactured in Russia in addition to their factories in Turkey and Italy.
Commenting on today's news, Buelent Oeztuna, CEO of Poliya, stated "This is an important step for Poliya. Our newest location in Russia means this production plant will be much closer to a large number of up and coming and existing composites manufacturers in the region including Russia, Ukraine, Kazakhstan,Belarus, Azerbaijan, Uzbekistan, Turkmenistan, Georgia, Armenia,Tajikistan,Kyrgyzstan and Moldova. This expansion will allow Poliya to not only provide the customized polyester and vinyl ester resins we are best known for but also allow improved logistics, faster response times and lower costs over all."
This announcement marks another key milestone in Poliya's sustainable growth following the acquisition of Cam Elyaf Resins in 2011 as well as expanded manufacturing operations in Italy in 2012.
For more information about the Poliya products and services newly available in Russia and surrounding CIS countries, please visit our booth (G-47) at the JEC Composites Show in Paris from March 12th-14th, 2013
About Poliya:
Poliya Composite Resins and Polymers, Inc. (Poliya) was founded in 1983 and specializes in developing and manufacturing polymers and composite resins.
Most widely known for their flagship product, Polijel gelcoat series, the company also manufactures UPE-polyester resins, vinyl ester resins, pigment color pastes, solid surface chips, adhesives, bonding pastes, mold release agents and waxes.
Poliya is headquartered in Istanbul, Turkey, has offices in Germany, and manufacturing facilities in both Turkey and Italy. Poliya's diverse product portfolio makes it a thriving international company. The company serves 23 countries throughout the world and is the industry leader and fastest-growing composite resin manufacturer in Europe.
Poliya's main focus continues to be research and development while remaining at the forefront of environmental consciousness. The company is a member of the European Chemical Industry Council (CEFIC), Turkish Chemical Manufacturers Association (TKSD), and the Turkish Composites Manufacturers Association.
To learn more about Poliya, visit http://www.poliya.com
# # #