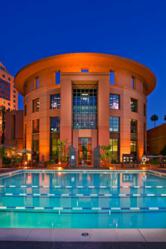 San Diego, CA (PRWEB) March 12, 2013
The idea to bring QR code technology to the fitness industry stemmed from the continually acceptance and prevalence of smart phone usage during a personal workout for many of the health club's members. That's when fitness manager at The Sporting Club, Kris Machain, decided to begin brainstorming on a way to leverage the unlimited technology that a smart phone affords with working out.
Specifically, Machain noticed that there were several brand new machines that many members seemed to ignore during their workout. These were expensive machines that could greatly contribute to the fitness of members. The question begged, "How do we teach members how to use these foreign looking machines?".
That's when Machain came up with the idea to use QR codes, instructional video, and smart phone technology to provide members with the option to watch an instructional video on how to properly use each fitness machine in the club in order to avoid injury and assist in personal fitness goals.
For those who are unfamiliar, a QR Code, is similar to a bar code you might see on a product at the grocery store. The difference is that when a QR code is scanned with a free smart phone application, it then redirects the user to a website page or in this case a video to watch on their phone.
Members of the San Diego gym, The Sporting Club, now have the luxury of using their smart phone during their workout to scan a QR code on any piece of fitness equipment in the club for which they will be directed to watch a 30-second instructional video.
Since incorporating this technology into the club, members have been using their iphones, Androids, and Windows phones to scan the QR codes on new fitness machines. The result has been better usage of all the equipment that the club affords, faster fitness results for members, and more interest for personal training sessions from other members. The technology has inspired everyone to become more interested in correctional fitness and the best fitness practices.
About The Sporting Club
The Sporting Club is a leading fitness and health club located in San Diego. The club offers a wide selection of group fitness classes, personal training, nutrition guidance, first class amenities, a full-sized outdoor olympic swimming pool, spa services, and much more.
For more information on the QR reader technology or any other club services, visit http://www.thesportingclub.com or call (858) 552-8000 today.