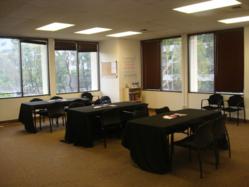 Irvine, CA (PRWEB) March 14, 2013
The "Work Is Good" meeting space is bright, spacious and inviting, ideal for conducting trainings, seminars, and or small conferences.
The office is stocked with all standard office supplies, such as projector, printer, scanner, copier, stationary, and more. The space is flexible, open, and can be reconfigured to meet the needs of any group or organization. There is also plenty of complimentary parking.
With all its amenities, the space can be rented by the hour, half day blocks, or for a full day. The office is located in a professional building, strategically located in Orange County, only a short walk from John Wayne airport. There are many restaurants, conveniently located, for a quick or leisurely meal.
Come visit, and see for yourself! (Conscires Agile Practices) http://work-is-good.com/
You may also contact vanessa.schmidt(at)conscires(dot)com directly.