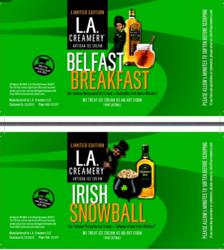 Chatsworth, CA (PRWEB) March 11, 2013
In 2012, Umami Burger Founder/CEO Adam Fleischman acquired an ownership stake in L.A. Creamery Artisan Ice Cream bringing his creative culinary talents to frozen treats.
Today, L.A. Creamery Artisan Ice Cream announced that the company is launching their innovative ice cream flavors at the Staples Center, home to the Lakers, Clippers, and the Kings; starting with two exciting flavors for the St. Patrick's Day Holiday. Belfast Breakfast is honeycomb ice cream combined with Bushmill's Irish Honey Whiskey and The Irish Snowball is Pistachio ice cream with Tullamor Dew Irish Whiskey.
"It's like a dream come true to showcase our culinary creations at the greatest sports complex in the United States," said company Co-founder Stephen Bikoff.
In addition to a very limited supply being sold at The Staples Center, a limited supply will be made available by the pint at Joan's on Third in West Hollywood, The Farmshop in Brentwood and The Oaks Market in Hollywood.
Get a taste of ice cream as an art form at lacreamery.com.
About L.A. Creamery Artisan Ice Cream
L.A. Creamery Artisan Ice Cream is the first ice cream company in the entire Los Angeles area to use Straus Family Farms organic dairy to create our ice creams. Our flavors rarely have more than 5 ingredients—and no preservatives, hormones or antibiotics, and absolutely nothing artificial. We do not use artificial flavors, colors, preservatives or hydrogenated oils in any of our products.
Press Contact:
Brad Saltzman
L.A. Creamery, LLC
brad(at)lacreamery(dot)com
310-595-6936
http://www.lacreamery.com